As everyone, I have a big list of dreams I wish I could turn into reality. This 6th of July one of them became true: Attending an open source conference: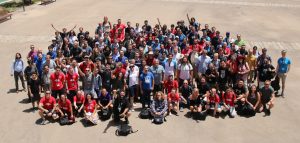 https://2018.guadec.org
My opportunity comes with GUADEC 2018, an event on Almeria, where distance (I live on Spain) and schedule (it was during the weekend) allows me to assist.
I use some of my holidays to attend, and didn't stay all the days (have no free days to be there all time) so if you're wondering: yes, you don't need to stay all days to have a great experience.
The costs? Flight, hotel… for me was a complicated decision, but been a member of GNOME foundation you can be sponsored to attend this kind of events, so if you have been in a situation trying to explain why you're involved in open source, this is for sure an argument.
https://www.gnome.org/foundation/membership/apply/
There's a lot of things to be afraid of, and lot of doubts when you do it for the first time, so if you're deciding to go to one let me tell you what it is like.
First, these days, all conferences start earlier than the first day on schedule, due to social media like twitter, telegram, IRC… So join those channels, say Hi, get involved, and try to be aware of what it would be, that will give you confidence and a rough idea of where to go, and what to do.
https://2018.guadec.org/pages/schedule.html
As you can imagine there's always need for volunteering, helping hands, dinners to organize… try to contribute and be proactive, there's always a gap you can fill.
During the conference, listen carefully, ask questions, stretch some hands of people you really admire, make it memorable.
During the unconference days, you can join to workshops and BoF (Birds of a Feather: Informal meetings about projects you're or want to be involved)
Results of BoF about Librem5: https://source.puri.sm/Librem5/Apps_Issues/issues/44
Send good vibes all around, try to create a group where people can feel comfortable, in a relaxed situation, many unexpected things could happen, be open to new ideas, enjoy all the journey.
BoF of #Boxes with @felipeborges ended in a chill conversation on terrace.

Happens I was sitting next to Lennart Poettering (#systemd). Yeah, that kind of things happen if you attend @guadec pic.twitter.com/1bSsYyXnRY

— Alberto Fanjul (@albfanjul) July 9, 2018
I commit you to spread on social media, people need to know how cool is all that.
Remember you are traveling, find your time to discover the city, be a tourist!
I really enjoyed attending GUADEC, and here you will find only some highlights, but there was a lot more. (Have to try yourself)
Now for me, the regular days chatting at IRC evoke all the good things I experiment there, and that change everything: