Topic suggestions
January 22, 2006
3:02 pm
New features
Due to time limitations the Epiphany 1.9.5.1 release wasn't announced on this blog. To make it up, here's a screenshot of the new merged Add Bookmark/Bookmark Properties window, that suggests topics based on existing topic combinations: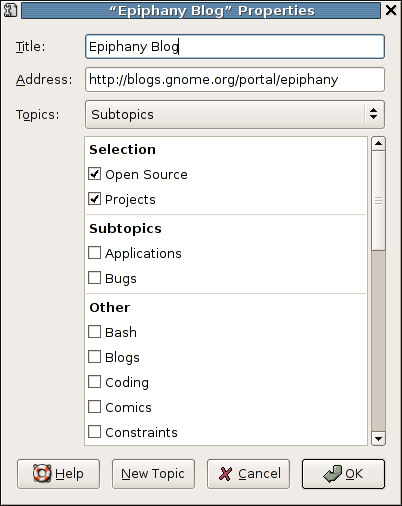 Please test it out and let us know your feedback!
In the future, we hope to offer suggested topics based on more sources, such as existing del.icio.us tags for the bookmarked URL.
Other notable changes are new buttons for zooming in and out on the default toolbar, and the dependency on Bonobo has been removed in favour of DBUS. Read the full announcement in the list archive, download here. A known bug is that context menus on the toolbar don't work, this has already been fixed in CVS.
Enjoy!