Reading back byte EC0:0x31 on a IBM Thinkpad embedded controller returns the laptop panel brightness. Setting this byte changes the panel brightness. This is how the ibm_acpi module has worked for years. Hacky, but it worked.
On a Lenovo N100, doing this didn't work due a slightly different embedded controller. I've managed to work out that you can read the brightness back (0-7) from reading the byte EC0:0xB9 (\_SB.PCI0.LPCB.EC0.BRTS) but changing it does nothing to the panel brightness. I can set the EC0:0xB9 value manually, and read back the 'new' value but I can't get EC0 to change the brightness at all.
I'm guessing Lenovo have upgraded the EC0, and now we either:
Can't software control the brightness due to physical h/w limitation
Have to poke some other register to make the brightness value "set"
I've had a look at the Renesas H8S datasheets (used for the EC0 chip) but it just seems like a bog standard micro-controller.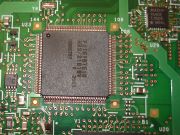 I've also read the 2161BV ec.s disassembly of the ThinkPad EC0 firmware (which looks like it should do the right thing) but I can't seem to get hold of the decompiled sources for the latest Renesas chip used in the N100. I've a sneaky suspicion there is either a software bug in the EC0 firmware, or that there is just no physical electrical connections to be able to change the brightness in software.
There's a pint offered at the next GUADEC for any help getting this to work.
EDIT: Update: setting the brightness to 7 using the Fn keys and then setting C0:0xB9 value to zero, and then pressing Fn brightness up, the display is set to brightness 1. This means we just have to convince the EC0 to update the brightness, which maybe we could do with a fake keypress or something. Still confused.