New Release – Today Mikael and I released Gossip 0.9. After a large refactor of the foundation code, further development has been made easier and overall we feel it is much more stable. It has been some time since the last release back in December last year.
There have been many changes, some of these include:
– A spell checker
– Updated contact information dialog
– Much better Drag & Drop usage
Generally just more polish everywhere 🙂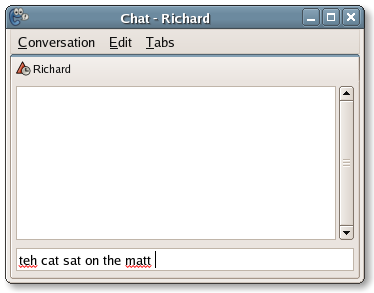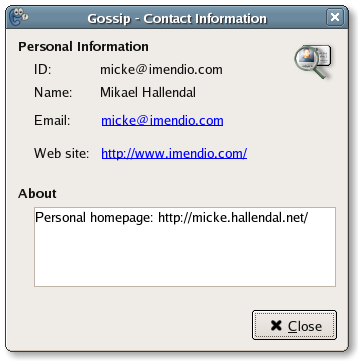 I have been working on getting multiple accounts working again in Gossip since the refactoring. Some of this work will be in CVS very shortly. I have taken things a bit further this time by actually allowing the user to select which account they do certain actions from: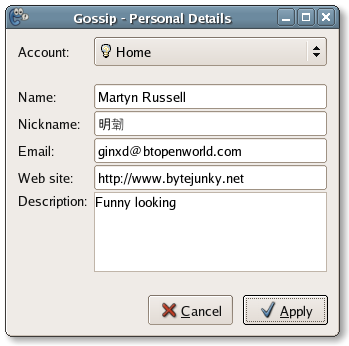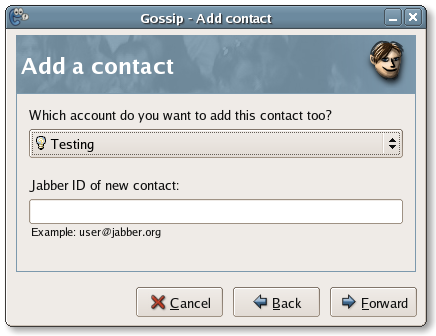 Wedding – Things are heating up with only 3 weeks to go.
Sue had her Hen night lastnight. The girls really do know how to have fun, you just have to look at their costumes on the night and all the party things they bring back home with them.
My stag do is this weekend coming, should be a good fun, I tried to arrange it for the night before the wedding but Sue threatened to call it off 🙂