libtracker-miner
So Carlos and I have been working on libtracker-miner for the last few months. Since tracker-store (formerly known as trackerd) is now handling all reads/writes from/to database and doing it much faster than ever before with a much more expressive language to query with (SPARQL), we had to merge the old tracker-indexer and parts of trackerd from the 0.6 branch into one binary that could crawl the file system, insert file specific metadata and call tracker-extract for file type metadata (for example: none "file" data, but actually data like image height, width, etc.).
As we had to do this anyway, we took the opportunity to refactor the parts we were unhappy with and to make libtracker-miner a library which other "data miners" could use. This gives the following things:
DBus integration for free
An API to find other miners both available and running
An API to get/set status, progress, name and description for each miner
An API to pause/resume each miner
Signals to know when all miners or specific miners start/stop/pause/resume/error/progress.
More recently, Adrien Bustany has been working on "bridges", which in fact are the same principle, they are miners of data but for web applications like:
Facebook
Flickr
Twitter
etc.
We are working together to integrate this into the "miner" framework we already have set up in master right now and it is quite exciting to see integration in other areas than just desktop applications.
Additionally, Philip is making Evolution use the same miner API so we will have support for 3 miners as standard out of the box for:
Email data
File data
Application data
tracker-status-icon
Formerly known as tracker-applet, this has been refactored by Carlos recently to work with the new miner API too, so now you can see (much like the network manager) a list of miners and their state/progress. It also allows pausing/resuming of ALL or single miners at a time which is very useful.
tracker-preferences
The tracker-preferences application was also really out of date. The whole configuration system has changed since 0.6 so we decided to use Vala and GtkBuilder to build the new dialog. This dialog only services tracker-miner-fs preferences right now because they are really the only settings that make any difference to the user at this point. There is some polish that is needed here, but it looks good so far: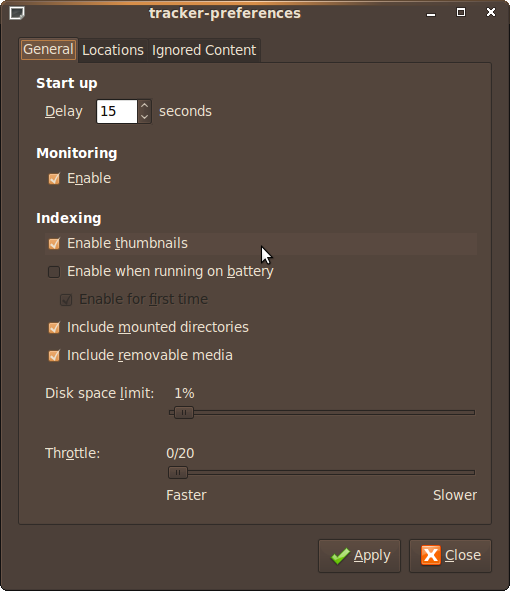 0.7 Development Release
The current roadmap is mostly done now with a few exceptions which we have decided to not worry about for the 0.7 release. Next Friday we plan on doing this release now that most of the UIs are in reasonable states and people should be able to start using it normally now all the big features have been integrated. This has been put off by 2 weeks already but we don't want to delay any further. So look out for a new version of Tracker next week!