Busy busy bee, that's me 🙂
Chelsea Flower Show '06
Recently I attended the Chelsea Flower Show for the second time and it didn't disappoint, I took plenty of eye candy for all to enjoy and you can find it at the usual hot spot (http://www.curlybeast.net). One of my favourites has to be this aqualegia, most spectacular:
Gossip 0.11.1
Over the last 2 or 3 weeks Gossip has really had some work put into it and I would like to take this opportunity to thank Eitan Isaacson for the patches he sent in to get avatar support up and running – it r0cks! Looking good Jeff 😉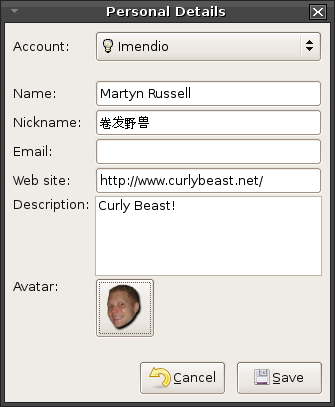 During this time we have also spent time fixing some of the little things and adding general polish to make it sparkle, this has meant that Richard has upgraded his status from party hacker to real hacker!
Thanks again to all that has helped with the latest release, it is appreciated and your patches most welcome!
Oh – and I am in the middle of moving house at the moment too, woohoo, busy busy busy!