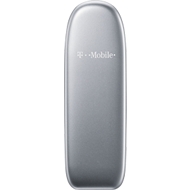 Thanks to Jason Clinton, I've had a T-Mobile WebConnect Rocket 2.0 stick for the past 2 months.  Since he wants it back and I've been sitting on it for far too long, I spent some time over the past week making it work in ModemManager.  It's a ZTE made device that contains an Icera chipset, which is interesting for a number of reasons.  First, it's not a Qualcomm device; Icera is a fairly new company and that doesn't happen often in the mobile broadband chipset industry.  Option used an Icera chipset in the AT&T USBConnect Quicksilver HSUPA modem back in 2009 but with a customized AT command set. At least a few other devices are out there in the wild.
Second, the device continues the trend of pseudo-ethernet interfaces instead of PPP for data transfer.  This is a good thing.  And what's even better is the device uses standard CDC-ACM and CDC-ETH interfaces, so no special drivers are required beyond initial mode-switching.  I honestly don't understand why companies create random new protocols and vendor-specific USB interfaces for their devices.  It clearly takes engineering time, addition R&D money, and results in slower time-to-market.  Why is that a win?  Why not save time and money by using standard stuff?
In any case, the ZTE MF651 also appears to contain an Icera chipset.  If anyone has this device, I'd love to see if it works with current ModemManager git master, and if it doesn't, please send me debug logs so I can fix things up.
PS: Jason, your Rocket 2.0 should be on it's way Monday.  Thanks again!