We're happy to announce that Linux App Summit will take place in Rovereto, Italy between the 29th and 30th of April.
Linux App Summit (LAS) is a conference focused on building a Linux application ecosystem. LAS aims to encourage the creation of quality applications, seek opportunities for compensation for FOSS developers, and foster a thriving market for the Linux operating system.
This year LAS will be held as a hybrid event and attendees will be able to join virtually or in person at our venue in Rovereto.
Everyone is invited to attend! Companies, journalists, and individuals who are interested in learning more about the Linux desktop application space and growing their user base are especially welcome.
The call for papers and registration will be open soon. Please check linuxappsummit.org for more updates in the upcoming weeks.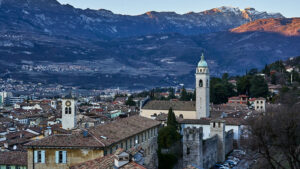 About Rovereto
Rovereto Italy is an old Fortress Town located in the autonomous province of Trento in Northen Italy near the southern edge of the Italian Alps and is the main city of the Vallagarina district.
The city has several interesting sites including:
The Ancient War Museum
A castle built by the counts of Castelbarco
The Museum of Modern and Contemporary Art of Trento
The biggest businesses of Rovereto include Wine, coffee, Rubber, and Chocolate.  The town was acknowledged as a "Peace town" in the 20th century. Also in the area footprints of dinosaurs have been found.
We hope to see you in Rovereto, Italy.
*The image "Rovereto" by barnyz is licensed under CC BY-NC-ND 2.0.
About the Linux App Summit
The Linux App Summit (LAS) brings the global Linux community together to learn, collaborate, and help grow the Linux application ecosystem. Through talks, panels, and Q&A sessions, we encourage attendees to share ideas, make connections, and join our goal of building a common app ecosystem.
Previous iterations of the Linux App Summit have been held in the United States in Portland, Oregon and Denver, Colorado, as well as in Barcelona, Spain.
Learn more by visiting linuxappsummit.org.