In the month of June we raised $1,585, for a total of $18,953 since January 1, 2009. We've almost reached our goal of $20,000 for 2009! However, donations in June were down significantly.
While donations have been increasing for the past four months, June saw a return to February levels.  What June does show us is how important the Friends of GNOME subscription program is. We were able to count on those monthly donations which held steady when the one time donations dropped.
Here are some graphs that show some of the data visually.
Subscriptions held steady but overall donations dropped in June: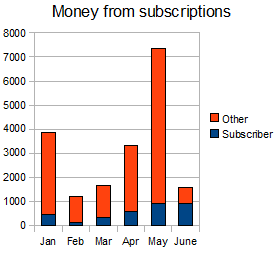 June 2009 was still better than previous Junes, thanks to the subscriptions to Friends of GNOME!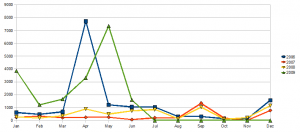 And year to date we are very close to our goal of $20,000 for 2009!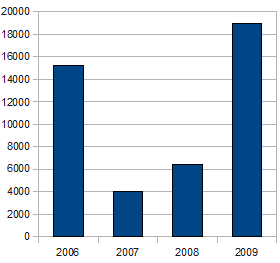 Help GNOME and sign up for Friends of GNOME's monthly subscription. (You'll also get a set of stickers and a tshirt to help spread the word about GNOME!)