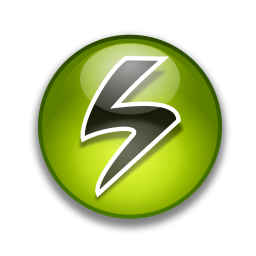 Swfdec got a logo! I think it looks really great. It even fits perfectly with the Ubuntu Swfdec Page. Thanks so much Cris for the design. Now someone only needs to fight the MoinMoin installation on Freedesktop to give the webpage an update. And after that, we'll have a nicely branded Swfdec.
In other news, I proposed our newest addition, swfdec-gnome, for the GNOME 22 desktop. Swfdec-gnome contains the stuff you need to integrate your downloaded Flash files better into the desktop: There's a thumbnailer and a small player application. Note that I did not propose to include any browser integration, as I don't think Swfdec is good enough for that. Yet. Maybe there'll be swfdec-epiphany integration in GNOME 2.24. ;)
Bastien already had lots of feature requests which got me thinking: What integration features do people really want for local Flash files? After all, this is supposed to be a small application, not one with 25 different menus for what you can do with it. So question to anybody reading this: If you had such a player, what should it be able to do?