I am stoked to be designing a Gnome that kicks ass for hackers too. McCann is right: the 'choice' between design for office monkeys and hacking monkeys is a false dichotomy. We can make both their lives better: they're running (almost :=) the same cognitive architecture underneath. Writing for ourselves can be fucking sweet. If we're eager and happy, we'll make it better for everyone.
Lets get some new hackers in on this shit. Kids? Time to shine.
Hackfest In Summary
The Gnome 2010 UX Hackfest has been such fun! Today is the last day, reckon we'll be riotous. It was a wonderful, familiar memory. I know not everyone reciprocates (hi hatemail, bye hatemail), but I missed you Gnome.
It was rad to spool out into airy discussions with everyone from Mark to Mo', but still land some useful designs at the end. That doesn't happen on every trip to lala land! Vis a vis the hackfest, this doc is only the tip of the iceberg – and a unfinished tip at that. Many amazing designs for other pieces of gnome have emerged too: from system preferences to empathy. As always, props to my homies @ Canonical & Google for splashin' the green on us.
I give you: Unfinished Writeup

PS: there's a couple cool animated mockups at the bottom of this post. they're good for getting a feel.
I'll make more. Hopefully loads more static mockups coming too. And once I get my scanner, the mockups will be more readable (sorry).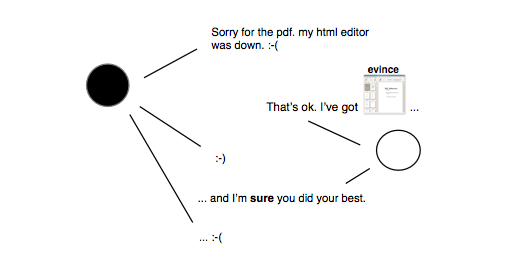 Anyway, here's some thoughts in case you don't want to read the PDF…
We want Gnome 3 to become…
a transparent tool…
a tool that accommodates complex tasks without breaking your focus.
the WORK should occupy your mind, a familiar TOOL should disappear as you work through it, not at it.
a tool that increasingly disappears in-hand as you become accustomed to it present-at-hand
a toolbox that's extremely fast to rummage through
a toolbox where old/obscure tools can be readily found
a toolbox where familiar files/tools/apps find your hand right when you need them… and recede into the periphery when you're done with them
provide ways to flow past the interruptions of an online existence
turn task-management into a 500ms operation
make ordinary laptops more physical, more direct, and much much faster to use for common operations (try to get the advantages sought by kb shortcuts & gestures for a much larger number of operations)
using an ordinary laptop in ways that naught but touchscreens are now (and touchscreens have their own special problems that detract from their physicality advantages). a toolbox that encourages files, apps and tools to find your hands as you need them, and recede into the periphery when you don't.
This doc isn't much past the grey and orange concept-babble that richly fills my inner life. But it'll give you a taste. And we'll do better. It'll get more concrete. Some is known that is not yet described, and some has been described that will turn out badly and need to be ditched. But play around. See how it feels. At this fetal stage, Explore > Reject.
We still need a lot more writing on how these ideas are concretely useful, and how important problems they raise are addressed/ameliorated. No design is perfect. Every design is a tradeoff. You get the center right, and then trim the pain from the edges. You learn lessons from the edges, and use the lessons to revise the core. Rinse, repeat.
I give you: The Task Pooper Animation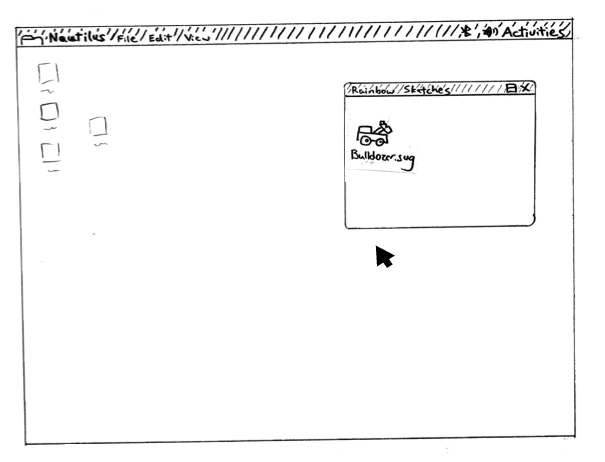 I give you: Absolut Trackpad Animation.
sorry the shots are from OS/X, nobody had globalmenu installed with a patched gtk+, and I needed global menus to demonstrate this feature, and was too lazy to do each of the frame mockups by hand.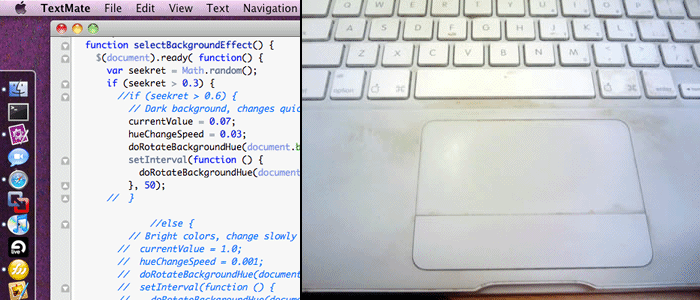 I give you: Search by Iterative Date Comparison
see doc for meager details
I give you: Browse the pdf, be kind, and play nice.
Lots of stuff here won't work like expected. That's ok. We'll just kill those features. Play around. Don't just try to shoot it down (that shit is easy, I've thrown up a barn-sized target), try to build off it, improve it, riff off it.
And now, let the wild rumpus begin.
if history is any indication…
Now you give me: Big Flames & Fierce Headache