For the last year and a half, I've been slowly transitioning all the lighting in my house to high-power LED lamps. I love LEDs. They're energy efficient and they light the room as if it were broad daylight. You don't have to live with CFLs to get energy-efficient lighting.
The downside, of course, is the cost. LED lighting is still fairly new, and as with any new technology, it's still fairly expensive. I definitely consider myself an early adopter. But just like computers and cell phones, I think the day will come when virtually everybody uses LED lighting. It's just better.
I have a lot of recessed lighting in my house, including 30 six-inch canisters, and the LED replacements for these are about $50 per light. So I was really excited to discover that Cree holds a monthly contest to give away five CR6 lamps. I won the August contest, and my new lights have just arrived: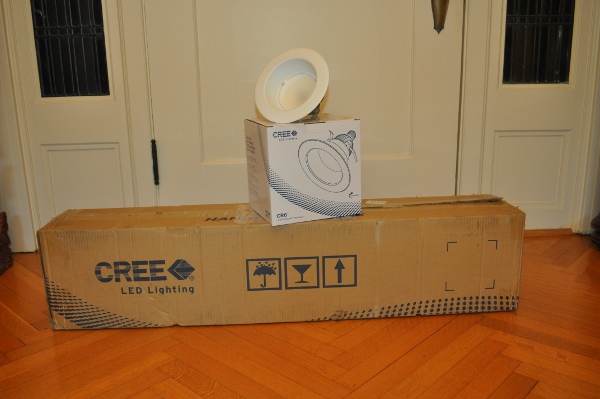 I had three of these in my house already, plus one similar light from another manufacturer. (If you're in the US, Home Depot rebrands these lights under the EcoSmart brand.) With these bulbs, all of the overhead lighting in my kitchen is now LED.
Installation is really easy. First, remove the old bulb, the trim, and the brackets holding the socket in place. The trim is usually held on with a couple of springs, and the brackets with a single thumb screw.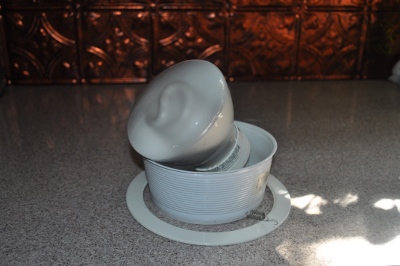 (Funny story: Just after I took this picture, I accidentally dropped this CFL bulb on the floor and spent the next hour trying to make sure my kitchen is mercury-free. Just say no to fluorescent.)
Screw in the LED module, then push it into the canister. The prongs will hold it in place. If it feels loose against the ceiling, give it a slight clockwise turn to tighten it up.
That's five more lights finished, thanks to Cree. Next on my list is the master bedroom.