Four months, in GNOME 2.16 cycle, We have added a lot of UI improvements to Evolution to make it look much better. Not just features and lot of bug fixes too!!! I have blogged them in parts. Im summarising all of them.
Cairo Rendering for Calendar
Evolution Calendar takes direct advantage of Cairo. It enabled us to make calendar much appealing. Now calendar features the following features
– The entire calendar, day/month view is drawn using Cairo.
– The selected event is shown with a shadow.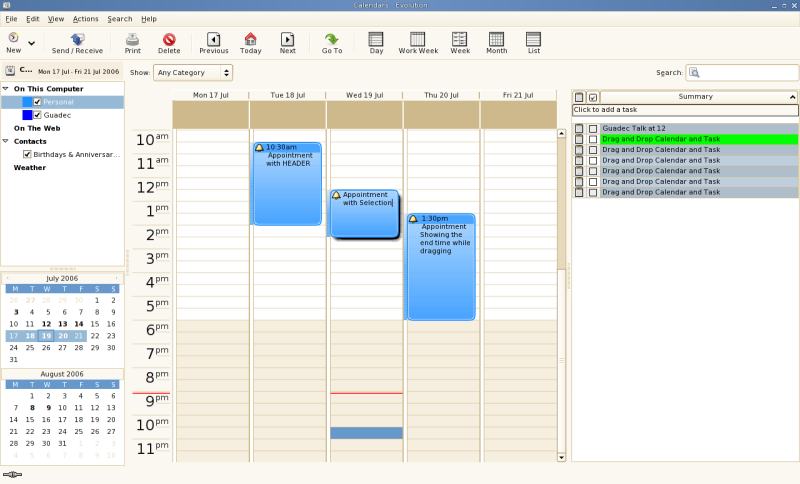 – When u re-size the event, you can see the end time shown in
the bottom of the event.
– The tag calendar has been moved to the left. Users can select the day on the left and see the events on the right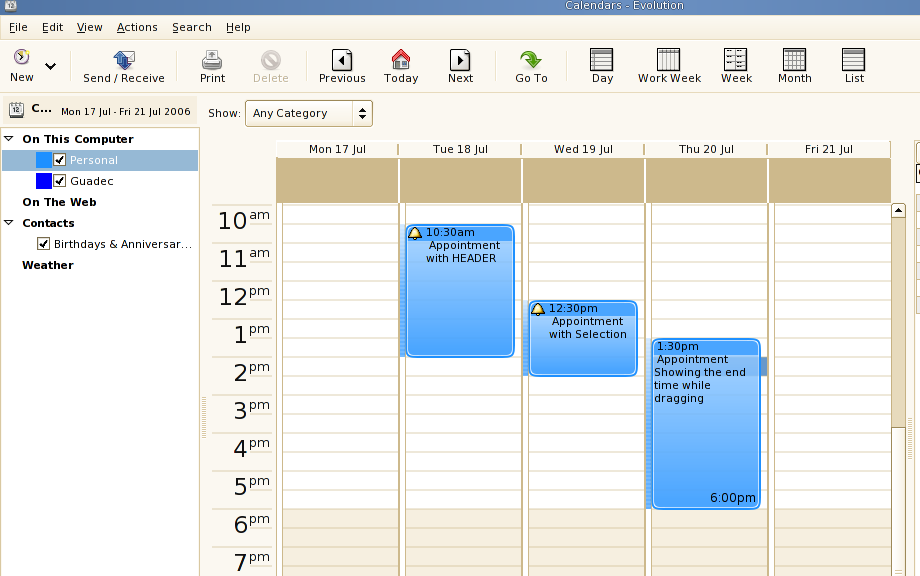 – There is a top header in every event that displays the start
time of the event.
Vertical View in Mailer
– Dynamic switch to Vertical view for Wide screen monitors
– Composite columns, which merges few of the most used columns
in to a 2 line column, so that the user has a extra width to
have a reasonable width for the preview. Automatic switching to
this view on vertical view mode.
– Right click to sort on hidden columns.
– Ability to custom short the number of emails displayed in
headers in the message preview/view with a option to expand.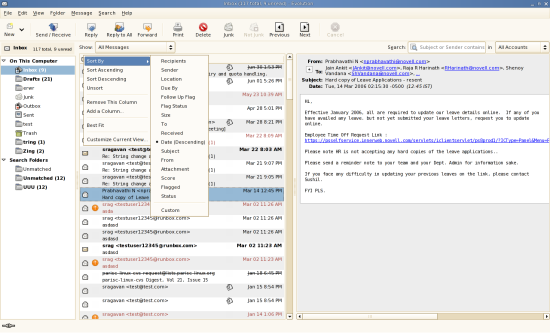 Search
– Quick Search bar: It features some of the most used
predefined instant apply criteria on the mail list.

– One interface to search for all mails in current
folder/account/all accounts and current mail.
– For current message, it uses no pop up dialog for search
widgets.
– Implements All account search. Don't have to hack around with VFolders to search :).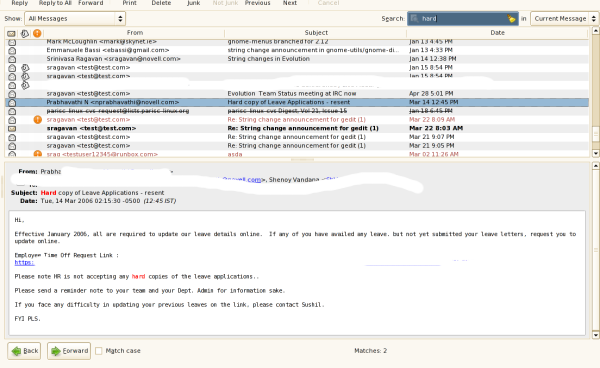 There were a lot of UI bug fixes. You wont see the shading over NEW button any more and It follows the gconf setting for toolbar buttons. The comma deletion in NameSelector is no more over smart and just works as expected and a lot more fixes.
Future
A lot of other works have started like
– Split UI
Load the bonobo component of just one module, when started
with a command line option or so. It reduces the preferences
options, menu size and to some extent memory. (Ex. You open
calendar and mail. Just See your calendar and close it, it is
off your memory) It has few missing bits like plugin support
and other logistics. It should be ready for the next
release (Hope so :). This model allows Evolution to run as a Suite as
well as in split mode. I have demoed this during my GUADEC talk.
– Toolbar/Shortcut Editor (Pretty lame implementation, due to the
limitation of libbonoboui)
– HTML Composer for Calendar/Tasks/Memo