I have committed the work I've been doing on the new colour schemes tab for the theme manager. I've also updated Clearlooks in gtk-engines to support colour schemes, and Ben Berg has updated the Industrial theme. I'm hoping to update the remaining themes pretty soon.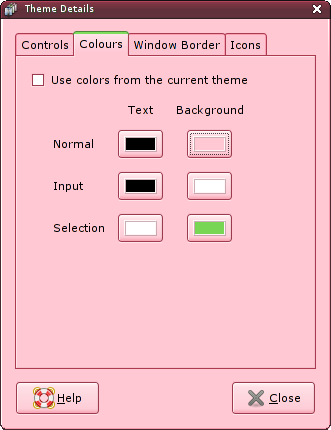 So, I would like as much testing and as many suggestions as possible. There is currently one critical bug in gtk+ that means the colour scheme can't currently be reset (unless you restart your application).
There are two other problems that will definitely be fixed before the final version. Firstly, it will need to detect if the selected theme actually supports the colour scheme options (which partly relies on the above bug being fixed). Secondly, I will create some logic to prevent the user setting the text colour to the same as the background colour. These are fairly easy fixes, but I just haven't got round to them yet due to lack of time. Patches are very welcome of course!
N.B. For anyone with an old checkout of cvs, you will need to check gnome-control-center out of cvs again. This is because Rodrigo has added libslab as a virtual module inside gnome-control-center, and it will not be updated by just running cvs update.