I discovered through the Android Market that there was a Mystify live wallpaper, which is reminiscent of the Windows 3.11 screensaver of the same name. It looks great on my Nexus One and doesn't consume much battery power. Struck with a new sense of nostalgia, I wanted to have the effect as my screensaver in GNOME. I was rather surprised not to be able to find one for gnome-screensaver, so I decided it might be fun to give it a go myself. So, with the power of Clutter, Cogl and OpenGL, I brought the mid-'90s screensaver to my GNOME desktop: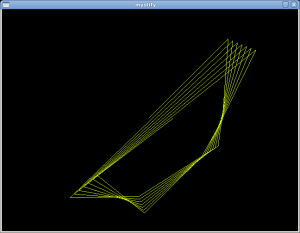 ignore the glitch, it's due to missing vblank and isn't normally visible
I used Clutter/Cogl with a thought to adding some OpenGL effects in the future, although I'm not quite sure what that might be apart from some blurring effect on the trailing polygons.
If anyone is interested, I'll publish the code somewhere. I'm tempted to re-write "starfield" too…