After a vacation and an excellent week in Berlin at the Desktop Summit I'm now back working on Gnome Contacts.
I'm slowly getting most of the UI mockups implemented in preparation for the UI freeze next week, and the evolution-data-server backend in libfolks has landed and been made the default. We also have support in evolution-data-server for the new Online Accounts system. This means we're currently in a pretty good shape for Gnome 3.2, although there is still a lot of work to do, like getting contacts linking working.
However, today I'd like to talk about something else that I've been working on. As you can see in my last update Gnome Contacts relies a great deal on avatars in the UI, and its often the case that your address book contains a lot of people that don't have one. All these default avatar icons makes it hard to scan the contact lists.
To solve this I've been talking to the guy behind the awesome robohash site. It turns out that he's actually somewhat of a Gnome fan, even helping out with news.gnome.org a long time ago. He's agreed to let us use the source images and code (in exchange for pimping robohash.org, which you should use! It's awesome!). I've been working on turning the code and images into a library that can be used locally by gnome-contacts. It's still a work in progress, but here is a screenshot: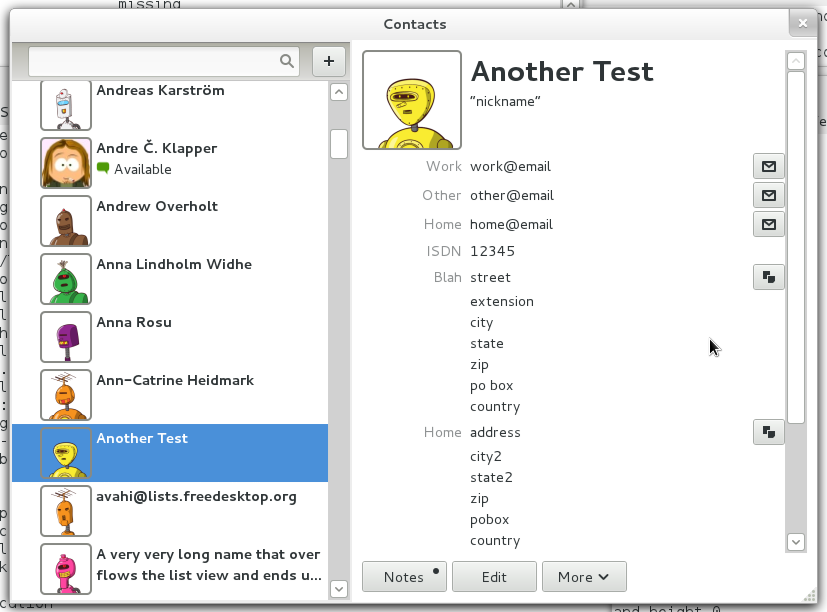 This is still a work in progress, but I'm very hopeful that we can land this for Gnome 3.2.