This post was written by Neil McGovern, Executive Director of the GNOME Foundation.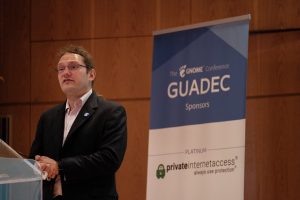 I am frequently asked if there's any point in the desktop anymore. With the rise of cloud services, it's easy to wonder whether there is a need. I believe that a free software desktop system is more important than ever.
GNOME creates an entire desktop environment that is beautifully designed and simple to use. We do this to ensure user freedoms. It is this empowerment of end users – acknowledging their right to control their own computing – that drives me forward.
The intention behind making free software is important, but irrelevant if the reality is that users cannot make use of those freedoms. When fewer than 0.5% of the world's population can code, the chance of someone being able to modify their own desktop, or pay someone to do so, is vanishingly small. It is our responsibility, as technologists, a community, and a foundation, to provide to put the user first. Software must be built for everyone, and that's what we are doing.
It is not enough for software to be free of charge, or even available under an open source license, if your data is being sent to third parties in attempts at monetization. It's not enough if it is still necessary to have a fast, expensive internet connection to get the latest upgrades or access to files. It's not enough if you need accessibility features that are under developed or unavailable. We see these situations as unacceptable and are working to change them.
Over the last year, we've grown from two full time, and one part time, employees to seven. Two more will be joining us shortly. This is to provide the support to enable the GNOME desktop to be what we need it to be. We will be launching a renewed focus on accessibility. We're introducing out Coding Education Challenge – to make it easier for people to contribute to GNOME and free and open source software, regardless of background. We will do all of this while driving innovation and continuing to update our software based on solid user testing.
To do this, we need your help. We rely on individual donors to help support us. Help us bring the user freedoms to millions more people by joining Friends of GNOME today.
We recommend a donation of $25/month ($5/month for students). These donations support our staff, programs, and the ongoing development of the GNOME desktop environment and other software in the GNOME ecosystem.
With your help and support we'll continue to develop world class free software and bring user freedom into the hands of every user.