You might recognize Efstathios, or Stathis as many of us call him, if you were at GUADEC 2019 in Thessaloniki. However, he spent so much time running around making things happen, it is just as likely you missed him. A lot of GUADEC 2019 would not have happened without him and the rest of the team, and we're really glad he's helping out with GUADEC 2020 as well!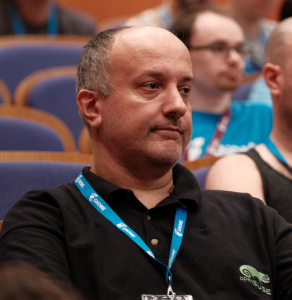 Tell us a little bit more about yourself.
I am a veterinarian and I work at a vet practice. In 2010, my friend Kostas and I had a dream to revive openSUSE community in Greece. Our project was very successful, and the global community trusted us to organize the openSUSE conference in 2013. During that period I got involved in other open source projects and communities. Right now I travel to different cities to attend national and international conferences, I speak and represent open source projects on those events. I was in the organization committee of GUADEC 2019.
What is your role within the GNOME community?
I am a translation coordinator in Greece and I do engagement work for the Greek community.
Do you have any other affiliations you want to share?
I am openSUSE member. I also contribute to other communities such as GNU Health, Nextcloud, ONLYOFFICE, ownCloud.
Why did you get involved in GNOME?
My first distro was Ubuntu and then Fedora. Both using GNOME. During my involvement with openSUSE global community, I met my friend Isabel Valverde. She was into GNOME community and she dragged me into GNOME community.
Why are you still involved with GNOME?
GNOME is one of the most important open source software/desktop environment. I would like to thank the community that releases new versions with many features. I use a powerful "tool" for free, so the least I can do is translate and promote it so more people can use it. Although I'm involved in other communities, GNOME is one of the most friendly and awesome ones.
What are you working on right now?
Mostly translating the new version 3.36 and promotion for conferences and organizing events. I help the GUADEC 2020 committee since I have the experience from the last GUADEC.
What are you excited about right now – either in GNOME or free and open
source software in general?
Since I'm in the "health" area, I'm excited about using open source software for health institutions. Everyone must have access to public health and it must be libre for everyone. Open source has the tools to help people and animals to have healthy lives.
What is a major challenge you see for the future of GNOME?
Communities such as GNOME, need to "produce" new developers. Programmers are human beings. Sometime soon they are going to slow down and maybe retire. So we might need a system to inspire new people to contribute. We have people that help new contributors to feel welcome in our community. My guess is that we better find a way to get into universities where students are hungry to learn new things and some might want to create something. We need them in open source in general, but it would be nice if they contributed to GNOME.
What do you think GNOME should focus on next?
I see that GNOME users are supporting mostly distributions rather than a GUI. I think that divides our effort to promote GNOME and gain more users for the sake of open source. GNOME has to focus on uniting all communities to have a more powerful voice on promoting open source.