Part of the magic of GUADEC is going out to amazing dinners with your new and old friends; exploring the beautiful parts of somewhere new; and maybe even staying up to watch the sun rise.
This year is a little bit different – but there are still lots of ways to get to know each other, try out new things, and hopefully have a little fun.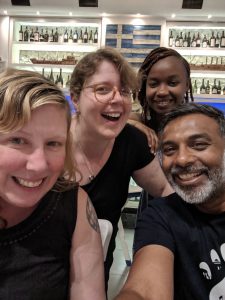 Social Events
Wednesday (22 July) at 21:10 UTC you can join Melissa Wu for drinks. She'll be teaching us some fun cocktail and mocktail recipes. Thank you Woodlyn Travel for making this happen! (See Notes below.)
Sriram Ramkrishna, every GNOMEie's fun uncle, is also quite the cook. Join him Thursday (23 July) at 21:00 UTC to learn some of his kitchen secrets. I recommend getting the ingredients ahead of time so you can cook along and then we can all snack together. (See Notes below.)
You might know Sumana Harihareswara from her work with Python, GNOME, Zulip, Mailman, MediaWiki, or many other places in the free software world. She's also hilarious. If you like to laugh, check out Sumana on Friday (24 July) at 21:00 UTC to hear Sumana's stand-up comedy.
There might not be a Museum BoF this year, but Ayanna Dozier will be bringing the museum experience to us on Monday (27 July) at 21:00 UTC. Ayanna Dozier is a scholar, filmmaker, and performance artist, and the Joan Tisch Teaching Fellow at the Whitney Museum and an Adjunct Professor at Fordham University. She'll be introducing us to modern art (1930 – 1965) through key artists and important historical events.
Social Hours
Every night after the evening social events, you can attend or host a Social Hour. Social hours are a time to get together around any topic you're interested in. These will include a Tea Party, GNOME Beers, and a GLBTQ+ social time. We especially encourage Social Hours based on non-English languages. If you want to host a social hour, please sign up for an account on and add it to the wiki.
Notes
Ingredients for Drinks
Cocktail 1
Beer (ideally Mexican beer)
Tomato Juice
Lime Juice
Optional: Worcestershire Sauce, Hot Sauce, Tajin Seasoning, Lime wedge
Non alcoholic version – all of the above minus the beer!
Cocktail 2
Tequila
Grapefruit Juice
Lime Juice
Agave Nectar, Simple Syrup, or Honey
Salt
Ice
Cocktail 3
Whiskey
Lemon or limes
Honey, Simple Syrup, or Maple Syrup
Ginger beer or soda water
Mint or Basil
Optional: Berries for flavor
Ice
Cocktail 4
Vodka
Coconut Water
Pineapple Juice
Fresh Lime Juice
Agave Nectar, Simple Syrup, or Honey
Club Soda
Ice
Ingredients for Cooking
Recipe 1
1 cup mayonnaise (vegan works too)
1 cup Parmesan cheese, shredded
14 oz can artichoke hearts (in brine, not oil), drained and finely chopped
Recipe 2
2 slices of bread
Various veggies – mushrooms, carrots, onions, beets, cabbage, green or red peppers – thinly sliced
1-2 TB Mayonnaise (vegan works too)
1-2 TB Cranberry pickle (recipe included)
1 slice of cheese (muenster, cheddar, etc)
1 TB of butter
Cranberry Pickle
2 TB Oil
3 tsp mustard seeds
1 tsp fenugreek seeds
1 cup cranberries
1/2 tsp salt (to taste)
1/4 tsp turmeric
1/4 tsp asofetida
1 tsp kashmiri chilli powder
1/4 tsp sugar (optional)