The GNOME Project is built by a vibrant community and supported by the GNOME Foundation, a 501(c)(3) non-profit charity registered in California (USA). The GNOME community has spent more than 20 years creating a desktop environment designed for the user. We're asking you to become Friend of GNOME, with a recommended donation of $25/month ($5/month for students). We're working to have 100 new Friends of GNOME join by January 6, 2020.
GNOME is about so much more than a desktop environment. In addition to the eponymous GNOME desktop, we work on projects like GStreamer, GTK, and Flatpak. We have a mostly complete list of technologies you can read on our web site. While the Foundation largely works on support, we also do development and outreach for GTK and GNOME core application development platform.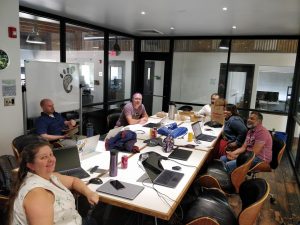 In addition to routine, and some not so routine, fixes, Emmanuele Bassi, GTK Core Developer, led development initiatives across the GNOME ecosystem. A far from complete list of work includes:
reliability and usability of continuous integration (CI) for Glib and GTK;
completed constraints layout work for GTK4;
progress on the animation framework API for GTK, a necessary step for the GTK 4 release; and
reviewing contributions and closing of numerous bugs.
Emmanuele mentored Ravgeet Dhillon in Google Summer of Code working on updates to the GTK web site. Additionally, Xiang Fan worked on GTK 4 Rust bindings.
Additionally, Emmanuele worked on the migration of the various GTK mailing lists to the new Discourse support forum.
We are already working on projects for 2020. Notably, there will be a hackfest in Brussels before FOSDEM, focused on GTK4, serving as a checkpoint for the 2020 release and accessibility (a11y).
A11y work is very important to us at the GNOME Foundation. We believe software needs to be for everyone, which means it needs to work for people who have physical disabilities, including those who are blind. In general, we plan to do a major a11y overhaul in 2020, focusing on developing our Accessibility Tool Kit (ATK). We are auditing what exists right now, and are currently seeking expert help with this. We hope to partner with other projects, to come together to create a11y support that rivals that of proprietary options.
In order to push these projects forward, we need your help. Please consider becoming a Friend of GNOME in order to support our work on new accessibility development, community building around a11y, and getting GTK 4 out the door.