Linux Fest Northwest
Linux Fest Northwest took place back in April, and we were there! Sri Ramkrishna and I hung out in Bellingham, Washington (USA), meeting GNOMEies, free software contributors, and open source enthusiasts.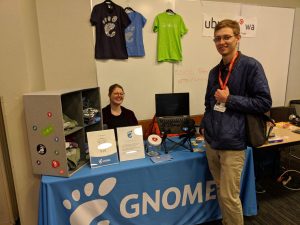 At the GNOME booth we sold tshirts, gave away stickers, and signed up people to become Friends of GNOME. We got to have highly technical conversations about the intracacies of flatpak through to giving introductory descriptions of what a desktop environment is and why we think GNOME is the best one. Situated next to our friends at KDE, we also had a great opportunity to talk with them (and others) about the overall ecosystem of desktop environments. If you'd like to learn a little more about the intersection of GNOME and KDE, you can read about LAS, an event co-organized by the two communities.
In addition to tabling, I gave a talk on community guidelines, like codes of conduct and anti-harassment policies, and my experiences following through on them. You can watch the video online.
OSCON
OSCON is one of the major open source conferences in the US. We made our OSCON debut at this year's conference, in Portland, OR. In addition to enjoying the coffee and comraderie we found in the Rose City, Neil, Sri, Rosanna, and I had a great experience in the Expo Hall and at the conference events.
We met a lot of people in the Expo Hall. Similar to LFNW, we talked about anything and everything related to GNOME: the Foundation, the community, the desktop environment, and associated tools like GTK, GStreamer, and flatpak.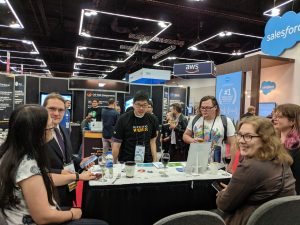 In addition to volunteering with us, Sri gave a talk on the future of FOSS on mobile. He talked about GTK+, a multi-platform toolkit for creating graphical user interfaces that is part of the GNOME project.
Following OSCON, there was the West Coast Hackfest, where members of the Engagement, Documentation, and GTK teams got together in Portland to hack on GNOME and the GNOME community.
West Coast Hackfest has drawn to a close. Special thanks to @UrbanOfficePDX for providing such a lovely and functional venue, and to our staff, Engagement, Documentation, and GTK teams for their hard work over the past 4 days! pic.twitter.com/v2pP1IhP2A

— GNOME (@gnome) July 22, 2019
Photos courtesy of Sriram Ramkrishna, Licensed Creative Commons BY-SA.