Melissa Wu is organizing the Community Education Challenge. She attended her first conference with the GNOME Foundation at SCaLE.
The 18th annual Southern California Linux Expo (SCaLE) took place on March 5–8, 2020 in Pasadena, CA. As the largest community-run open source and free software conference in North America, it was interesting to see the variety of corporate and non-profit exhibitors all united under their passion for open source.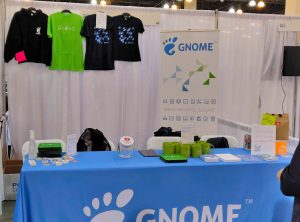 The GNOME presence was felt throughout the conference with a special GNOME Beers and pre-release party on the first day of the conference, Thursday, March 5th. GNOME information flyers were also included inside every attendee bag.
This presence carried on to our booth where we were able to connect with GNOME community members, contributors, and enthusiasts as well as tote our merchandise, including a brand new GNOME t-shirt, and stickers. Thank you to the number of supporters who assisted us at the booth including Foundation staff, Melissa Wu, Caroline Henriksen, Neil McGovern, and Rosanna Yuen, along with Foundation members Matthias Clasen, Sriram Ramkrishna, and Nuritzi Sanchez.