I've spent the last couple of days fixing up all the upgrade bugs in GNOME Software and backporting them to gnome-3-20. The idea is that we backport gnome-software plus a couple of the deps into Fedora 23 so that we can offer a 100% GUI upgrade experience. It's the first time we've officially transplanted a n+1 GNOME component into an older release (ignoring my unofficial Fedora 20 whole-desktop backport COPR) and so we're carefully testing for regressions and new bugs.
If you do want to test upgrading from F23 to F24, first make sure you've backed up your system. Then, install and enable this COPR and update gnome-software. This should also install a new libhif, libappstream-glib, json-glib and PackageKit and a few other bits. If you've not done the update offline using [the old] GNOME Software, you'll need to reboot at this stage as well.
Fire up the new gnome-software and look at the new UI. Actually, there's not a lot new to see as we've left new features like the ODRS reviewing service and xdg-app as F24-only features, so it should be mostly the same as before but with better search results. Now go to the Updates page which will show any updates you have pending, and it will also download the list of possible distro upgrades to your home directory.
As we're testing upgrading to a pre-release, we have to convince gnome-software that we're living in the future. First, open ~/.cache/gnome-software/3.20/upgrades/fedora.json and search for f24. Carefully change the Under Development string to Active then save the file. Log out, back in and the launch gnome-software again or wait for the notification from the shell. If all has gone well you should see a banner telling you about the new upgrade. If you click Download go and get a coffee and start baking a cake, as it's going to take a long time to download all that new goodness. Once complete just click Install, which prompts a reboot where the packages will be installed. For this step you'll probably want to bake another cake. We're not quite in an atomic instant-apply world yet, although I'll be talking a lot more about that for Fedora 25.
With a bit of luck, after 30 minutes staring at a progressbar the computer should reboot itself into a fresh new Fedora 24 beta installation. Success!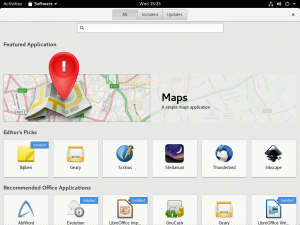 If you spot any problems or encounter any bugs, please let me know either in bugzilla, email or or IRC. I've not backported all the custom CSS for the upgrade banner just yet, but this should be working soon. Thanks!