I've spent a few days adding support for upgrading the firmware of the various wireless 8Bitdo controllers into fwupd. In my opinion, the 8Bitdo hardware is very well made and reasonably priced, and also really good retro fun.
Although they use a custom file format for firmware, and also use a custom flashing protocol (seriously hardware people, just use DFU!) it was quite straightforward to integrate into fwupd. I've created a few things to make this all work:
a small libebitdo library in fwupd
a small ebitdo-tool binary that talks to the device and can flash a vendor supplied .dat file
a ebitdo fwupd provider that uses libebitdo to flash the device
a firmware repo that contains all the extra metadata for the LVFS
I guess I need to thank the guys at 8Bitdo; after asking a huge number of questions they open sourced their OS-X and Windows flashing tools, and also allowed me to distribute the firmware binary on the LVFS. Doing both of those things made it easy to support the hardware.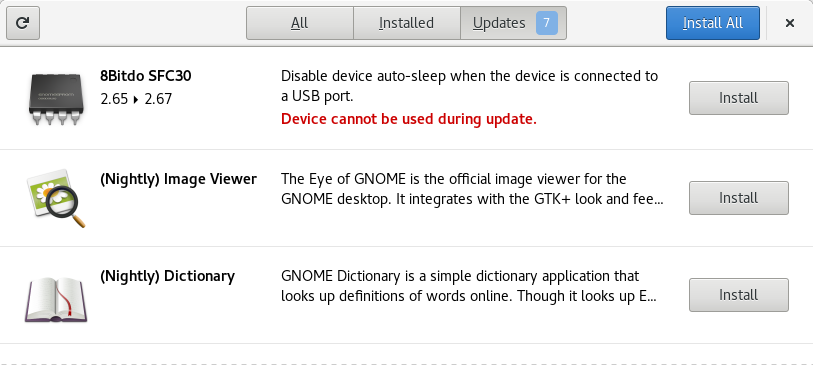 The result of all this is that you can now do fwupd update when the game-pad is plugged in using the USB cable (not just connected via bluetooth) and the firmware will be updated to the latest version. Updates will show in GNOME Software, and the world is one step being closer to being awesome.