As some as you may know, there might be firmware security support in the next versions of Plymouth, GNOME Control Center and GDM. This is a great thing, as most people are running terribly insecure hardware and have no idea. The great majority of these systems can be improved with a few settings changes, and the first step in my plan is showing people what's wrong, giving some quick information, and perhaps how to change it. The next step will be a "fix the problem" button but that's still being worked on, and will need some pretty involved testing for each OEM. For the bigger picture there's the HSI documentation which is a heavy and technical read but the introduction might be interesting. For other 99.99% of the population here are some pretty screenshots: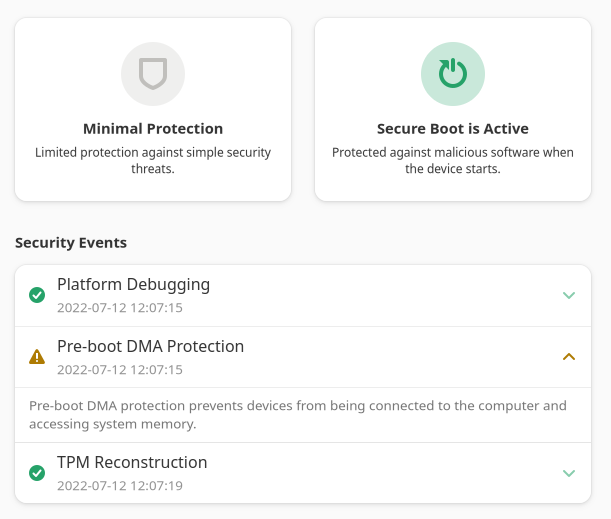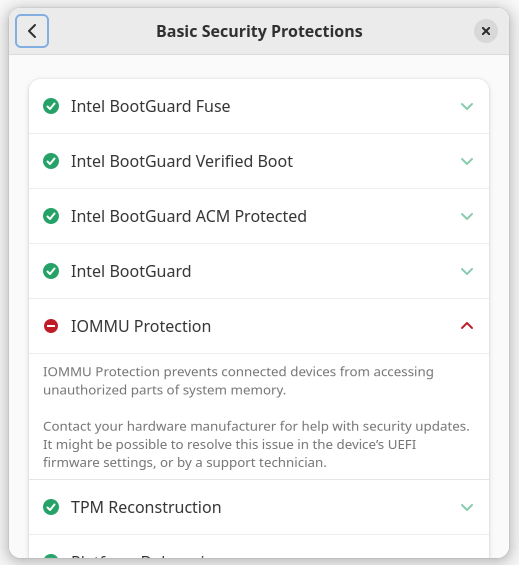 To facilitate development of various UIs, fwupd now supports emulating different systems. This would allow someone to show dozens of supported devices in GNOME Firmware or to showcase the firmware security panel in the GNOME release video. Hint hint. :)
To do this, ensure you have fwupd 1.8.3 installed (or enable the COPR), and then you can do:
sudo FWUPD_HOST_EMULATE=thinkpad-p1-iommu.json.gz /usr/libexec/fwupd/fwupd
Emulation data files can be created with ./contrib/generate-emulation.py file.json in the fwupd source tree and then can be manually modified if required. Hint: it's mostly the same output as fwupdmgr get-devices --json and fwupdmgr security --json and you can run generate-emulation.py on any existing JSON output to minimize it.
To load a custom profile, you can do something like:
sudo FWUPD_HOST_EMULATE=/tmp/my-system.json /usr/libexec/fwupd/fwupd
As a precaution, the org.fwupd.hsi.HostEmulation attribute is added so we do not ask the user to upload the HSI report. The emulated devices are also not updatable for obvious reasons. Comments welcome!