Today I tagged fwupd 1.8.4 which adds a few nice features and bug fixes. One specific enhancement I wanted to shout about is that we're now supplying translated summary, description text and suggested actions for each HSI security failure. Two of the most common criticisms of the new GNOME security panel were "but what does it mean" and also "and what should I do" which ironically were fixed long before all the hubbub erupted. If you want to see both new bits of data then make sure you're using gnome-control-center from the main branch and then install the new fwupd version – although if you're stuck on a distro version of fwupd GNOME will still fallback to the single-line summary line as before.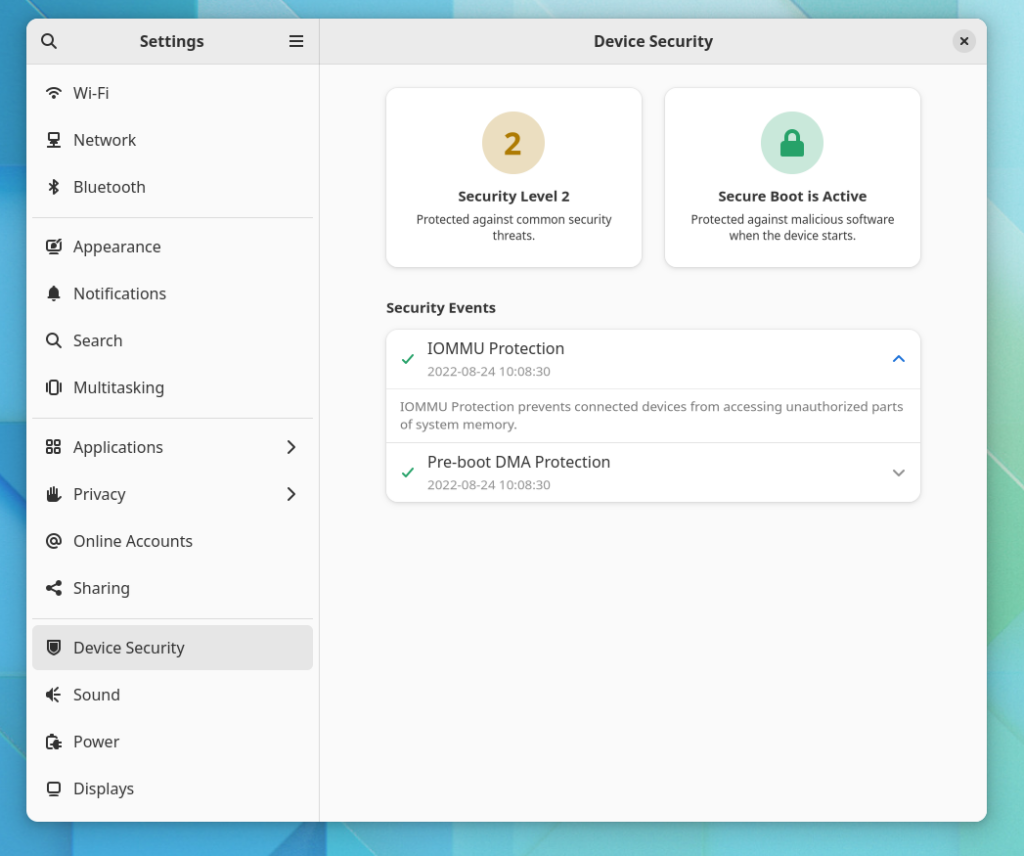 One additional new feature that might accidentally fix another criticism with the panel is that fwupd now reads your system BIOS settings, and has the ability to change them if the user desires (and has authorization to do). This means we have to match the HSI failure (e.g. IOMMU disabled) with the BIOS setting, which isn't standardized at all between vendors. We currently support this on modern Lenovo and Dell platforms via the firmware-attributes kernel interface; other vendors just have to add the kernel WMI bridge and it should mostly magically start to work.
As we now know what the failure is, what we need to change, and how to change it, we can actually ask the user if they want to change the setting automatically in the fwupdmgr security command line. This would allow us to add a "JFDI" action in the new GNOME device security panel rather than asking the user to manually change a firmware setting in the BIOS. We won't do this for GNOME 43 as we need a few months of real-world testing to see what attributes are 100% safe to change on actual user systems, but for GNOME 44 the panel could be a whole lot more helpful than it is now.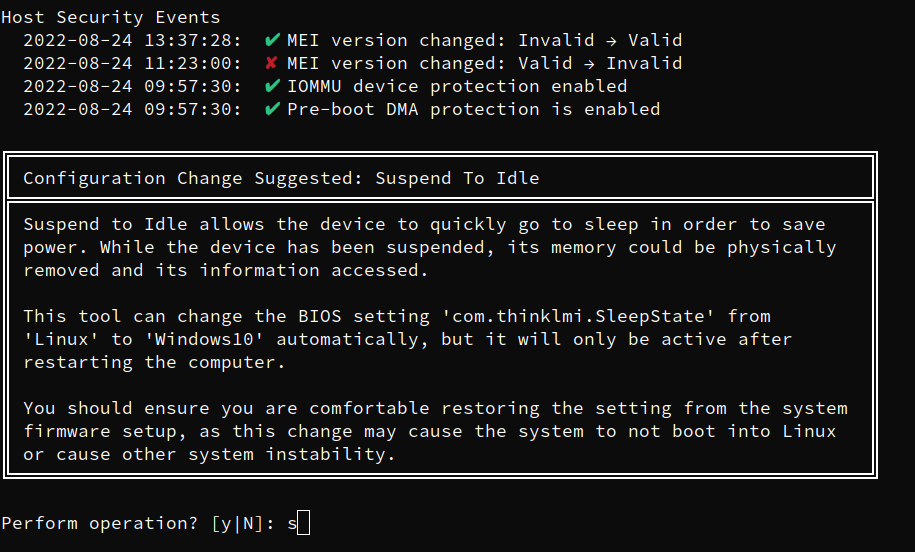 A new tantalizing features then become available when using fwupd, as we can now read and change firmware settings. One is the ability to emulate the BIOS settings of another machine, which is fairly uninteresting to end users, but allows us the developers to reproduce bugs much easier now that we're doing cleverer things. One more interesting deployment feature is that we also support reading out a file from /etc and applying those firmware settings at startup. This means you can now deploy a machine using something like Ansible, and have the firmware settings set up in the same way you set up the local machine state. There are lots of docs on how this all works and I encourage you to try this out and let us know how it goes. One caveat is that this doesn't work if you have a password set on your BIOS settings, but we're working on this for the next version.
Needless to say, please tell us about any problems with the new release. As always, comments welcome.