The LVFS has now supplied over 100 million updates to Linux machines all around the globe. The true number is unknown, as we allow users to re-distribute updates without any kind of tracking, and also allow large companies or agencies to mirror the entire LVFS so the archive can be used offline. The true number of updates deployed will probably be a lot higher. Just 8 years ago Red Hat asked me to "make firmware updates work on Linux" and now we have a thriving set of projects that respect both your freedom and your privacy, and a growing ecosystem of hardware vendors who consider Linux users first class citizens. Every month we have two or three new vendors join; the logistical, security and most importantly commercial implications of not being "on the LVFS" are now too critical for IHVs, ODMs and OEMs to ignore.
Red Hat can certainly take a lot of credit for the undeniable success of LVFS and fwupd, as they have been paying my salary and pushing me forward over the last decade and more. Customer use of fwupd and LVFS is growing and growing – and planning for new fwupd/LVFS device support now happens months in advance to ensure fwupd is ready-to-go in long term support distributions like Red Hat Enterprise Linux. With infrastructure supplied and support paid for by the Linux Foundation, the LVFS really has a stable base that will be used for years to come.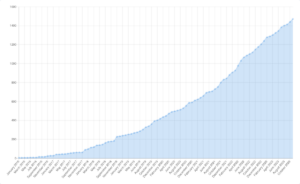 As the number of devices supported by the LVFS goes up and up every week, and I'm glad that the community around fwupd is growing at the same pace as the popularity. Google and Collabora have also been amazing partners in encouraging and helping vendors to ship updates on the LVFS and supporting fwupd in ChromeOS — and their trust and support has been invaluable. I'm also glad the "side-projects" like "GNOME Firmware", "Host Security ID", "fwupd friendly firmware" and "uSWID as a SBoM format" also seem to be flourishing into independent projects in their own right.
Everybody is incredibly excited about the long term future of both fwupd and the LVFS and I'm looking forward to the next 100 million updates. A huge thank you to all that helped.