I've been so busy that I totally forgot about the photos I took the last two weekends. The first one, we went to Panticosa, a ski resort in the Pyrenees, with such a bad luck that the first day it was raining, and that made us being so wet after 2/3 hours that we had to leave. The 2nd day it was worst, the resort was closed due to very high winds
But anyway, I took some nice photos:
The next weekend, we woke up at 7 AM on Sunday to go again for some skiing action, and while leaving my place, we saw the village had suffered from floods during the night.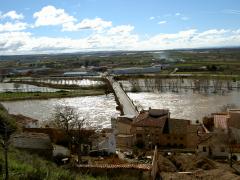 In case things got worse (which was expected), we just turned back and missed another day of skiing
Next weekend we'll do another try, maybe one of the last, since temperatures are starting to go up, and skiing in melting snow is not a very good experience. So I guess we have just 2/3 weeks left for this season