One request we get often here at Collabora Multimedia is from people using GStreamer in the embedded and mobile sector and are looking for ways to stream over RTSP with GStreamer, often in combination with various kinds of transcoding and proxying functions. Due to this we have launched a new project, the GStreamer RTSP server. This server is written by GStreamer maintainer Wim Taymans and is tightly based on the RTP infrastructure in GStreamer that he has been working on for quite some time now.
It is a server written in C which can stream any GStreamer supported file over RTSP using any of the wide range of RTP formats supported by GStreamer. It also allows you to take any RTSP or HTTP stream and proxy it onwards over RTSP. The screenshot below is of totem playing a RTSP stream of the Max Payne trailer from Apple's website. The stream offered by Apple is a normal Quicktime http stream, but our RTSP server repackages it and retransmits it over RTSP on my local network on the fly.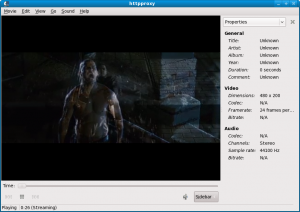 The code is currently only available through a git repository which you can grab using this command:
git clone git://git.collabora.co.uk/git/gst-rtsp-server.git gst-rtsp-server
The reason there is no formal release yet is due to early stage the software is in, while it works it is not very user friendly yet, with media paths having to be edited and compiled in with the server for instance. But for those looking for a RTSP server solution using GStreamer, which is suitable for putting onto embedded and mobile devices, then it might be enough to get you started and of course we at Collabora are available to offer assistance for those who want it. One hope we have is that this code will help people doing DLNA servers support the mobile profile of that specification for instance.
We also plan on moving the code into GStreamer's code repository once that is migrated to git from CVS.