So January 2008 I posted blog entry in which I expressed the hope for an easy to use GStreamer transcoding application.
Well after so much time gone by and still none on the horizon I decided to bite the bullet myself and make a go for it. Only problem was that I didn't have either a clue about programming or about how glade works. But upon skimming through the book Learning Python at Robs place I decided to try to do it.
In addition to the book there was two online resources who helped to make things connect for me. The first was this tutorial on how to make user interfaces with python and glade and Jono Bacons blog about getting started with gstreamer and python.
My first application from playing with those tutorials was a GTK button which when you pressed it played a beep sound using the audiotestsrc element in GStreamer. But I kept at it and after having now spent about 5 days on learning the basics I am pretty happy with the progress I have made
on my application named 'Transmageddon':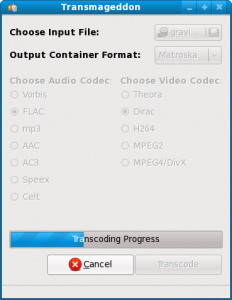 The application is still very early stage, but if you got all the GStreamer plugins modules installed it should work. I even posted Fedora RPM on the very basic Transmageddon homepage.
There is a lot of coding stuff that needs fixing behind the scenes to enable more features and make the application more robust. My big long term goal is to add support for profiles to the application, so you choose Nokia 810 or iPod or PSP and the application chooses the container format and codecs for you and also rescale the video if needed to be optimal for that device. For those who care I have a fairly detailed Todo list here.
Any feedback people want to provide please feel free to email me or post a comment on this blog entry, just make sure to read the Todo list before suggesting stuff ;)
I also hope to write some blog entries explaining how I did some of the stuff in the application as I don't think there is a very simple tutorial on how you do a progressbar with GStreamer for example.