Recently I have been working on support for a filechooser portal for sandboxed applications (in xdg-app). The way these work is that the application triggers a file chooser, then the actual user interaction happens outside the sandbox, and the application only recieves the file data after the user finished the interaction.
Ideally something like this would be completely hidden by the toolkit, and the application would just use the regular file chooser APIs. However, the Gtk+ filechooser APIs expose too much details about the file chooser dialog, which means it has to be a regular in-process widget. Unfortunately this means we can't replace it by an out-of-process dialog.
What we need is a Gtk+ API for the file chooser that hides the details of how the dialog works. At this point I realized that this is something that has been requested a lot in a different context. Such an API would allow us to plug in platform-native file chooser dialogs.
So, I got to work, and today I landed support for native Windows file choosers in Gtk: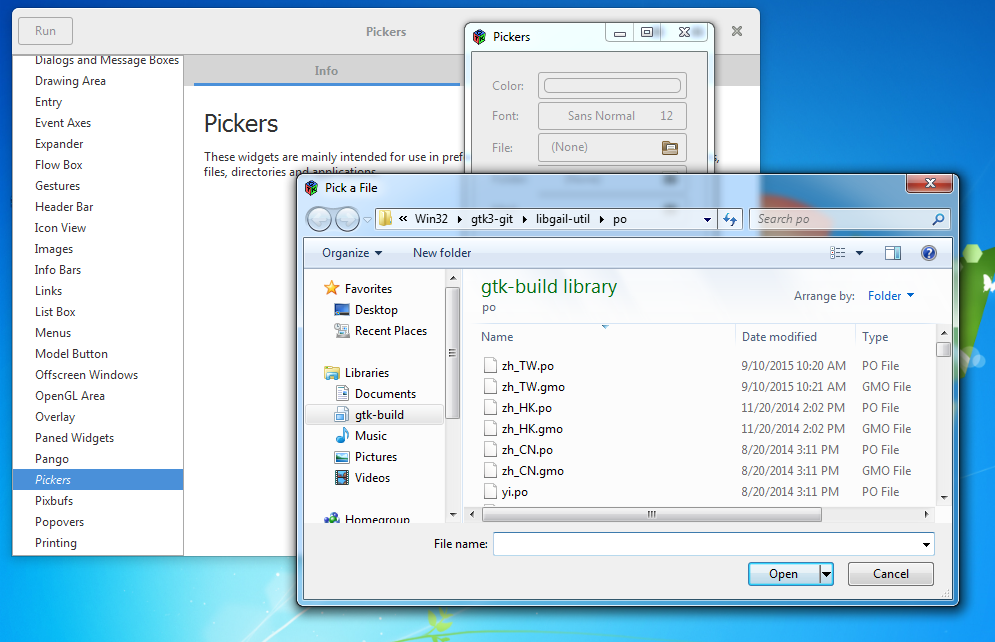 We will also look at implementing an OSX version of this to ensure that the APIs work for the common cases.
Now that we have this people can start porting their applications (which is quite trivial in the common case, as the APIs is very similar to the old APIs). And once the apps are ported they will automatically get support for the filechooser portal to make them work in a sandboxed environment.
So, anyone maintaining a Gtk 3 application that want to work better on other platforms, or when sandboxed should take a look at the new GtkFileChooserNative API. Right now it only exists in git, but once there is a new release it should show up in the API docs.