Flatpak relies on OSTree to distribute apps. This means that flatpak repositories, such as Flathub, are really just OSTree repositories. At the core of an OSTree repository is the summary file, which describes the content of the repository.  This is similar to the metadata that "apt-get update" downloads.
Every time you do an flatpak install it needs the information in the summary file. The file is cached between operations, but any time the repository changes the local copy needs to be updated.
This can be pretty slow, with Flathub having around 1000 applications (times 4 architectures). In addition, the more applications there are, the more likely it is that one has been updated since the last time which means you need to update.
This isn't yet a major problem for Flathub, but its just a matter of time before it is, as apps keep getting added: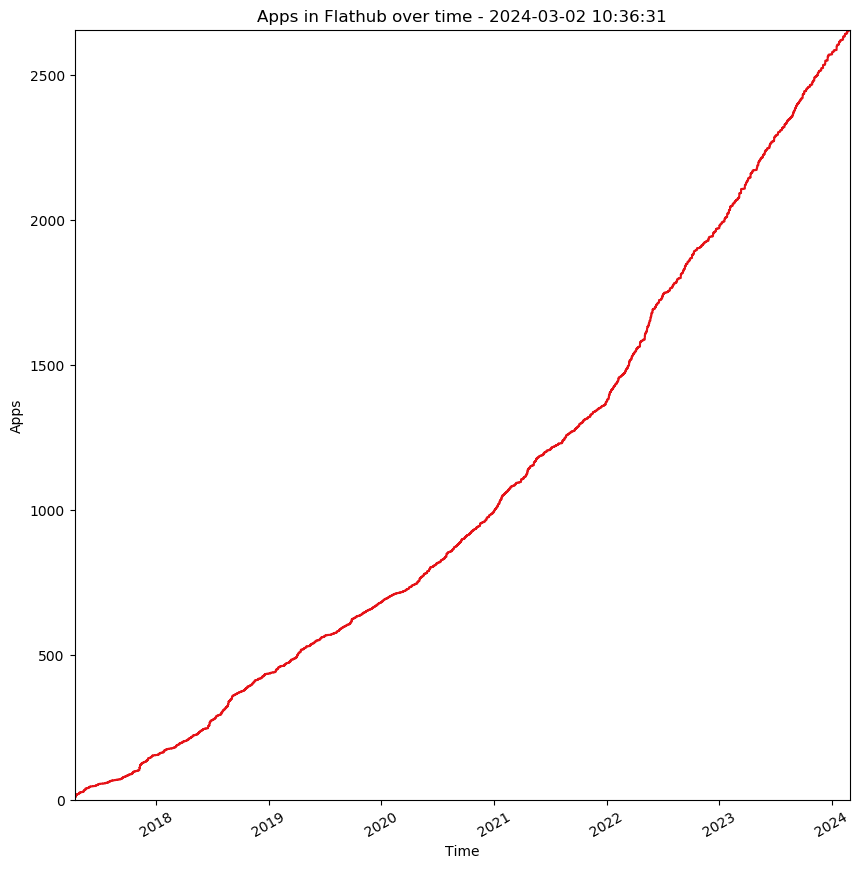 This is particularly problematic if we want to add new architectures, as that multiplies the number of applications.
So, the last month I've been working in OSTree and Flatpak to solve this by changing the flatpak repository format. Today I released Flatpak 1.9.2 which is the first version to support the new format, and Flathub is already serving it (and the old format for older clients).
The new format is not only more efficient, it is also split by architecture meaning each user only downloads a subset of the total summary. Additionally there is a delta-based incremental update method for updating from a previous version.
Here are some data for the latest Flathub summary:
Original summary: 6,6M  (1.8M compressed)
New (x86-64) summary: 2.7M (554k compressed)
Delta from previous summary: 20k
So, if you're able to use the delta, then it needs 100 times less network bandwidth compared to the original (compressed) summary and will be much faster.
Also, this means we can finally start looking at supporting other architectures in Flathub, as doing so will not inconvenience users of the major architectures.
To the future and beyond!