You may have read my recent blog entry dealing with a patch adding recursive permission caps to Nautilus. I got some very helpful comments which pointed out why the last approach failed.
The combo box that was added to the permissions grid was too confusing for newbies. It doesn't mean anything to them. For nerds however, it doesn't provide enough caps because they want to edit the permissions of files and folders at the same time (cf. chmod -R +rX). So obviously – although usability experts usually don't like the idea – a basic/advanced mode separation was needed. This was also necessary because for common computer users only binaries can be executed, and they don't easily grasp that the x flag for a directory means listability, while not providing this implementation detail to experienced users will confuse those.
So how would the new approach look like? This might be very disappointing for those of you expecting a creative approach, but I simply replicated the GUI concept from MacOS that was also adopted by KDE. For reducing the complexity of the involved GUI descriptions, one cannot select files and folders at the same time and edit their permissions. It will simply cause too much headache, because "Read" means rx for directories and r for files, which is the reason why in basic mode, there is no "Execute" terminology used for directory permissions. Furthermore, un advanced mode it would cause many strings like "Apply foo to the selected files and the files in the selected folders and their subfolders", requiring the user to scan the help text again and again to get what he is actually doing.
Note that the screenshots shown in this entry are not HIG-compliant, because the dialog helpers weren't modified to respect it. I've filed a bug report against this issue which has some screenshots and is waiting for your usability-related comments.
Use case 1: Joe Doe downloads a binary and wants to make it executable.
He brings up the "Access Rights" tabs and sees the following: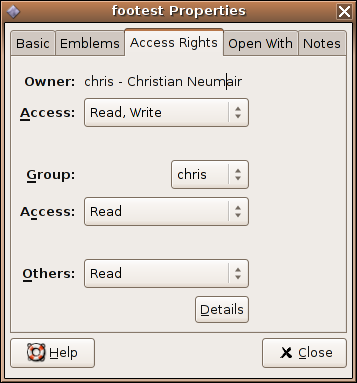 He then clicks the first "Access" combo box, and selects "Read, Execute" or "Read, Write, Execute" from the list.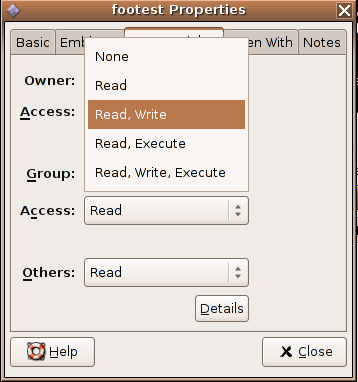 Note that if a particular permission combination (like wx) is not available, the combo box has no preselected entry, and allows you to set the permissions to any of the "sane" permission combinations in the combo. When modifying folder permissions in basic mode, you're asked for confirmation (and are offered cancellation, recursive application and toplevel application). For the sake of sanity, +X is always added to "Read"/"Write" folder permissions, but it is taken care to not mess up with the +x flag of the files in the folder while still setting them [+-][rw] as desired.
Use case 2: Foo (too lazy to open a shell and use chmod) wants to apply g+rX to a directory hierarchy.
He brings up the "Access Rights" tabs and sees basically the same as Joe Doe: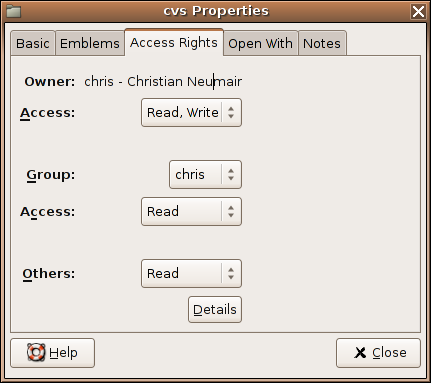 "What the hell", he thinks. This dialog doesn't offer anything! Goddamnit, the GNOME morons even removed the last useful feature from GNOME.
He is pissed off by the fact that the combo box just offers the crap it offered to Joe Doe – but wait, it even offers *less*. Just three shitty items, and where is my +X?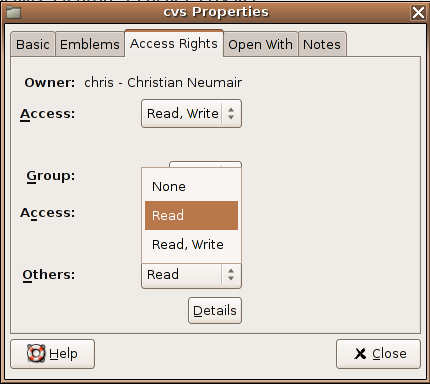 OK, so he toggles the "Details" button expecting that he'll soon use apt-get to remove that crappy GNOME shit from his and all his clients' computers.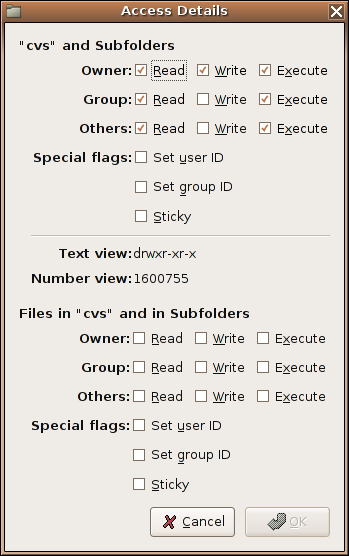 Hah, now THAT'S what I call a chmod GUI. While he is a bit disappointed that they didn't yet figure out how to properly do keynav (more buttons than possible accels) and that he has to press "Execute" and "Read" twice in the folder section and additionally "Read" once in the file section, he does it.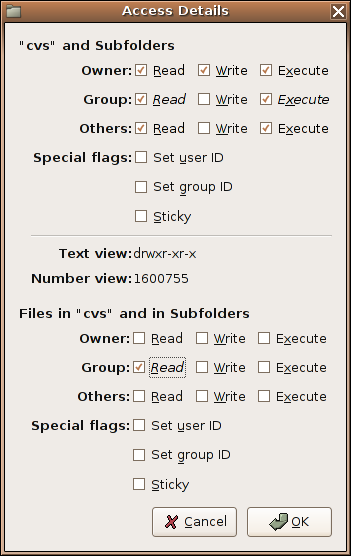 Next, he presses OK – and voila – g+rX is done.
Note that the file details dialog looks like the folder section of the folder dialog of the folder details dialog, and error handling is still not yet done. The patch also lacks some cleanup, but it's too late for that.
I know, nowadays people demand ACLs, sudo caps when there are unresolvable permission problems and such, but I really think we're making some decent progress.
Comments are again welcome, and don't forget to grab the patch and play with it.