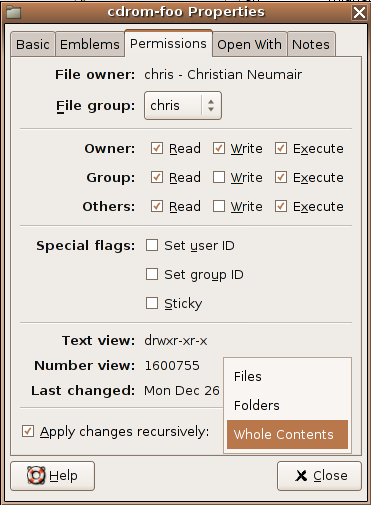 I sat down yesterday and figured out how to implement recursive permission changes in Nautilus. The result of my work can be found in the Bugzilla, it wasn't much work after all. The whole NautilusDirectory machinery was really well thought-out, kudos to its designers.
It's not yet entirely decided how to do error handling, in theory we could use a cancel/retry dialog, but I think it isn't too common to have a folder you own with many files you don't own, and without a file operation sudo framework you're always forced to do a sudo chmod to continue.
I'm really looking forward to usability-related comments.
Oh, and I know that the dialog doesn't conform to the HIG, I'll cook a patch for that issue soon.
Update
Be sure to also check out the comments , many people made very helpful suggestions. I disagree with some of the comments that an explicit "Apply" button buys us much.
It rather turns out that the whole current "Permissions" tab approach is rather unintuitive due to UNIX permission obfuscation. I've also found a Thunar file manager wiki page containing an insigthful comparison of different UNIX permissions GUI approaches, and I think the KDE/Apple approach is really better than the others. Maybe we should adopt it and explicitly ask the user whether he wants to apply the changes to the directory contents when changing some permissions. We should probably not mess with the "x" part of permissions at all when changing directory permissions. If people did -x, they did it for a distinct reason, and an admin's approach to file management can obviously never be mapped to a GUI.