I spent a lot of March beating the shit out of ModemManager.  When the beatdown was done and the dust settled, out came a boatload of stuff people want.  It ain't gonna win design awards, but your wildest 3G fantasies just got rocked. Hard.
Access Technology
Access wha? Wanna see how fast you be cruisin' those intarwebs fool?  That's why you want some "access technology" dropped on your desktop, right up on your 32px hot-pink GNOME panel.  Ask and you get it delivered.  Most modems can tell whether they're connected to the tower using EDGE, UMTS, HSxPA, 1x, EVDO, or whatever, and now you see it too.  It's a great way to figure out just how bad your provider's network buildout is.  Yeah that means you, T-Mobile USA.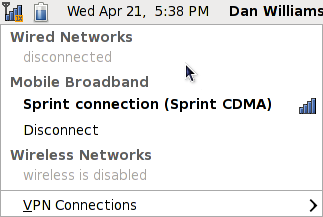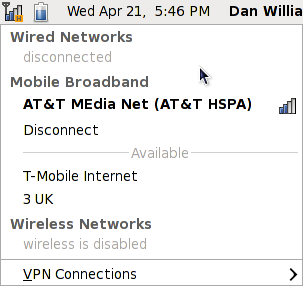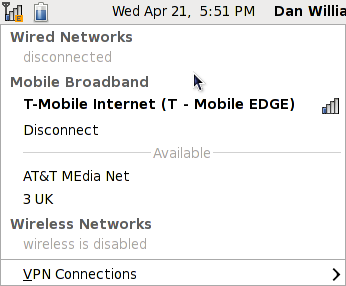 Avoiding the Roaming Shaft
You work hard for the cash money.  You don't want some punk roaming network up and grabbing the bills straight outta your pocket.  So if you check the magic button, ModemManager won't connect to a roaming network.  If you're on the home network and get handed off to a roaming one, ModemManager will kill the connection.  Dead.
If you feel like you're getting shafted, look for the roaming badge on the applet icon, or check the menu before you connect. Kick roaming in the ass or whatever you feel like doing.  Maybe you like roaming too much.  But at least now you have choice.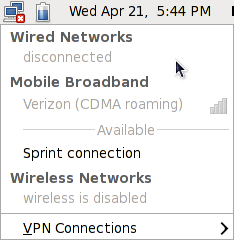 You Got a Preference
Do you hate 3G?  Do you just loooove the 2G action?  Fine, have it your way.  Choose your mode preference.  But remember: every time you pick GPRS God kills a kitten.  Think of the kittens.

Slave to the Provider Info
Long ago Antti Kaijanmäki started the mobile broadband provider database to build up a free, open, easily usable list of mobile broadband provider details.  Besides being the core of the mobile broadband wizard, it's now used for grabbing the provider name when we can't get it elsewhere.
For example, every CDMA 1x base station broadcasts a System ID, and we look this SID up in the provider info and pull out the provider name.  And on the GSM side, if the card is stupid (or your provider didn't set the SIM correctly) then sometimes the alpha for of the PLMN will be missing, but the MCC/MNC won't be, and we look that up in the provider database to get a pretty network name too.
So that's a wrap for what will be ModemManager 0.4 in a few weeks.  But if you want a preview, check out Fedora 12, 13, or rawhide.