We sat down with Carlos Soriano, the main contributor of Nautilus in 3.20, to learn more about the man behind the project.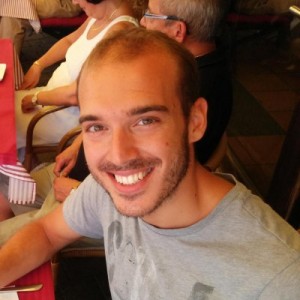 ---
Where are you from and where are you based now?
I'm from Spain. I grew up in a city called Girona in Catalonia. Now I'm living in Brno, in Czech Republic.
---
How long have you been contributing to GNOME?
---
How and why did you get started at GNOME?
During the second or third year of university I joined a
computer graphics
research group and discovered the Linux world. I knew I wanted to gain practical knowledge, and when I saw Allan Day's
mock ups
for
GNOME
shell, I knew that was what I wanted to do. I was really excited about it! I started reading the GNOME Wiki, and it took me about two weeks to get up and running.
---
A lot of hard work has gone into Nautilus for 3.20; what is your favorite feature?
The search! We have provided some new tools
and interface
, and almost everything we did revolves around the search. It's the biggest work we did on 3.20.
---
What about Nautilus are you most excited about? Do you have any ideas on where it will go from here?
I joined Nautilus one and a half years ago.
My dream
goal was to rework the views. The icon view's code is 1
6
years old, so it holds us back with everything. It makes it difficult to have
the capabilities that phones and web have, like adjusting the number of items shown or the spacing between them
.
Also,
we can't use GTK inside icon view, so we can
not add any smart visuals, widgets
,
or animations
. We're set back because of the code, and need to redo
all of it
. It'll take a lot of time, so as to implement new features
, but it will
be
worth the effort, and we will
likely
have icon view for the file chooser as well.
Making p
rogress towards this goal is
what makes me most excited.
---
How many contributors have been involved this release?
2 with GNOME. I have been the main contributor, along with Georges, my GSoC student. And around 10 people helped with random patches, including
developers from distros
and
also
ne
w
comers.
---
We see you're again a mentor for this year's round of GSoC. How has mentorship factored into your own life and career?
I have always liked to teach. I started teaching IT to children in
a school
, and I would also teach
a bit of
math, physics, and other similar subjects. Whenever I have the opportunity to be a mentor, that's the first thing I  want to do. Because I love to teach. Last summer I had a really great student named Georges Estra
v
acas, and we
created
a great relationship. Not only my student learns, but I also learn how to teach and how to make people happy about contributing to GNOME. It's something that helps both the student and me to make progress.
---
And now to switch gears and ask you some silly questions…
What is your favorite color? 
---
Favorite food?
I went vegan 4 months ago. It was sushi before, but now I would say vegan burgers.
---
What is your spirit animal?
Dog! They're always cheerful, they have a great attitude, and they always try to cheer everyone up.
---
Finally, and this one is important; what do you think cats dream about?
I think they're always conspiring to take over the world!
---
Thanks to Carlos for answering our questions during such a busy time of the release cycle. We can't wait to see what he and the rest of the Nautilus team have in store for us next!