This month's community spotlight is on Shobha Tyagi, one of the volunteer organizers of GNOME.Asia Summit 2016.
---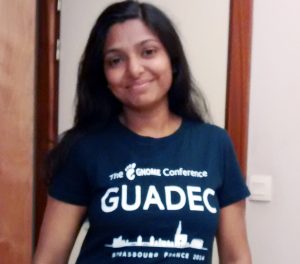 Shobha's history with GNOME began when she participated in the Outreach Program for Women (OPW) internship in December 2013, with GNOME as her mentoring organization. She attended her first GUADEC in 2014 while she was an OPW intern, and met Emily Chen, who introduced her to the GNOME.Asia Summit.
Passionate about helping to spread GNOME throughout Asia, Shobha was resolute to rise to the challenge of bringing GNOME.Asia Summit to her home in Delhi, India. Fast-forward two years, Shobha is proudly leading the local organizing team of GNOME.Asia, which is ready to lift its curtain in Delhi, on April 21, 2016.
We chatted with Shobha about GNOME and her experience organizing GNOME.Asia.
---
---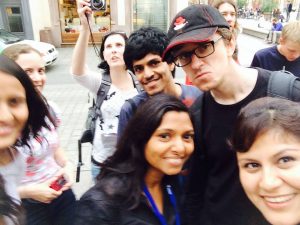 Do you have a favorite thing about GNOME?
My favorite thing about GNOME is its people. The same people who create it, maintain it, and use it – they are what makes GNOME really great. I really enjoy committing my patches directly to the upstream repositories and meeting the contributors in person. I also get great satisfaction whenever I tell people about GNOME and let them know how they can also contribute.
---
Sure! It does help if you have attended a GNOME conference in the past, but once you have made up your mind to bid, have faith in yourself and just write your proposal.
---
There are many challenges, especially when you are the only one who knows the ins and outs of the event and have a limited amount of time. I'm surrounded by very supportive people. Even so, people expect more from the person who lays the initial groundwork. I thank the summit committee members for their tremendous help and persistence through countless IRC meetings and discussion, without which, it would have been impossible to overcome all of the small obstacles throughout the entire planning experience.
---
The most exciting part is learning new things! Writing sponsorship documents, calling for presentations, picking up basic web development skills, identifying keynote speakers, chief guests and sponsors, amongst other things. I learned first-hand what goes into designing logos, posters, and stickers. There were also other tasks that I wouldn't have had to do in a normal situation like arranging a day tour to Taj Mahal for a big group.
---
After the GNOME.Asia Summit, I would like to focus my efforts on establishing a GNOME user group in Delhi.
---
My advice for them is to come and join GNOME! GNOME enables you and me to contribute, and when we contribute, we help each other improve our lives. If you are committed, you can commit patches too.
---
And now, some fun questions. What is your favorite color? 
Yellow.
---
All vegetarian Indian food.
---
Cow! They have a calm demeanor, and symbolize abundance and fertility since they represents both earth and sky.
---
Cats dream about being loved, cared for and pampered by their master.
---
Shobha is helping to organize the 2016 GNOME.Asia Summit while working as an Assistant Professor at Manav Rachna International University, and pursuing a doctorate in Software Engineering. She has been a Foundation member since 2014, and has previously contributed to the Documentation team.
Thank you so much, Shobha, for sparing some of your time to talk to us! We wish you a successful Summit!
Interviewed by Adelia Rahim.