As the calendar year comes to an end, we'd like to thank everyone who contributed for the first time to a new project at GNOME. The list below includes people who made their first commit, contribution, or joined a GNOME global team.
Please join us in thanking these excellent newcomers!
Design Team
Kate Lassalle-Klein
Tobias Bernard
Engagement Team
Anna Yin
Biraj Karmaker
Julian Sparber
Michael Hall
Neil McGovern
Shirley
Umang Jain
Yunfeng He (Jim)
Builder
Anoop Chandu
Georg Vienna
Kritarth
Lucie Dvorakova
namanyadav12
Xiang Fan
Calendar
Abdullahi Usman
Abishek
Andrei Ceapa
Carlo Lobrano
George Willian Condomitti
Jente Hidskes
Joyjit Choudhury
Nidhi Gupta
Novi-Novi
Orkun Tezer
Valentin Negoescu
Yash Singh
Files (Nautilus)
Adrian Zatreanu
Cristian Nancu
Diana Grecu
Eduard Čuba
Evgeny Shulgin
Horia Ion
Jan Tojnar
Kartikeya Sharma
Robert Stanca
Tiberiu Lepadatu
Vyas Giridharan
Waqar Ahmed
Games
Mateusz Sieczko
Radhika Dua
RoubyPA
Maps
Anup Agarwal
Nayan Deshmukh
RyuzakiKK
Music
Abhinav Singh
Jean Felder
Sambhav Kothari
Suyash Garg
Photos
Ankriti Sachan
Kartikeya Sharma
Katarina Gresova
Rashi Sah
Saksham Bhalla
Scott Cohen
Shivam Tripathi
Polari
Alexander Alzate Olaya
Augusto Cesar
Mjash
Justyn Temme
Zandr Martin
Recipes
Ekta Nandwani
Paxana Amanda Xander
Todo
Aeden McClain
Denis Ollier
Evgeny Shulgin
Jens Sauer
Kevin Lopez
Linus Probert
Rohit Kaushik
Utkarsh
Zack Lofgren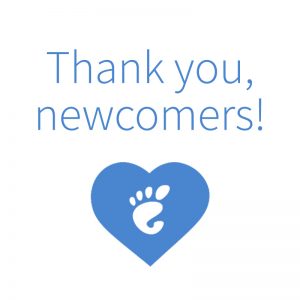 If you're interested in making your first contribution to GNOME, we welcome you to join us! Here are some resources:
Thank you again to everyone who participated in GNOME, oldcomers and newcomers alike. GNOME exists because of you. Thanks for making 2017 another great year!