Max Huang has been GNOME since 2010, starting with forming a GNOME users group in Taiwan. Max has a story you may understand: being a user, meeting the right person, and slowly finding yourself more and more deeply involved with a community in terms of working together and making friends.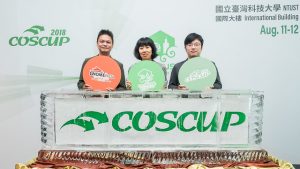 Tell us a little bit more about yourself
I have contributed to GNOME for the past nine years. I promote free software and GNU/Linux at my school in Taiwan. I am one of GNOME.Asia Committee Advisors members, working with GNOME.Asia team.
I've helped organize several GNOME.Asia summits, in Taipei, Chongqing, Tokyo, India, Indonesia, Beijing, South Korea, and Hong Kong. I've served on the GNOME travel committee for several years. In 2012, I also worked with openSUSE and KDE to have a conference with COSCUP in Taiwan.
Before I started organizing events, I went to Bangalore, India, learned how to host the GNOME booth, and started making a GNOME user video.
Before that, I started the GNOME Taiwan Users Group, which hosted a lot of workshops with GTK, as well as a party for the GNOME 3 launch.
What is your role within the GNOME community?
I organize and promote GNOME. 🙂
Why did you get involved in GNOME?
I met Emily Chen at 2010, she led me into GNOME community. I am a GNOME user — of course. 🙂
Why are you still involved with GNOME?
The answer is "friendship and smiles." To me, smiles are the greatest power to promote GNOME and FOSS. I have made many new friends in GNOME and FOSS through different events.
Why still get involved with GNOME and open source?
Everyone can be a contributor with different methods. Just spending your time — you will get smiles and friends, learn and grow.
What are you working on right now?
Promoting GNOME through open source, workshops, and speeches.
What are you excited about right now — either in GNOME or free and open source software in general:
Getting the community together more. 🙂
What is a major challenge you see for the future of GNOME?
We need to work on documentation and the first steps for getting users and organizers involved with GNOME. How can we brow the user and contributor bases?
What do you think GNOME should focus on next?
The GNOME Board tasks. 😛 I trust them, they will do their best. 🙂
What should we have asked you about that we didn't? (Please also
answer.)
I think the question is great. Thanks again for interviewing me.
Photo courtesy of COSCUP on Flickr. Licensed CC-BY-SA.