Welcome to the August 2019 Friends of GNOME Update!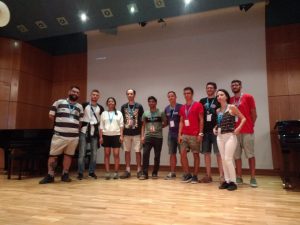 Where we went
Neil, Molly, and Rosanna went to OSCON, in Portland, OR. While there, we met with people from other free software projects and companies developing open source, or with open source programs offices. Following OSCON, there was the West Coast Hackfest, during which the Documentation, GTK, and Engagement teams met and got a bunch of work done. There are some photos you can check out on our Twitter account.
Molly attended FrOSCon, giving a keynote entitled "Open Source Citizenship for Everyone!" On September 17th, Molly will be at GitLab Commit in Brooklyn, NY.
Federico Mena will be at CCOSS in Guadalajara, México, September 14 – 15th. There he will run a workshop on GNOME and deliver a keynote presentation.
Update to the Bylaws
Like many non-profits, the GNOME Foundation is governed by a set of bylaws. Our bylaws cover such things as membership, the rights and responsibilities of board directors, and other important organizational and legal infrastructure. Changes in the bylaws must be approved by members of the Foundation. Announced in July, a vote on these amendments will take place at the 2019 AGM (Annual General Meeting) at GUADEC. Should it be passed, board member terms will be extended, and language in the bylaws will be changed to be gender neutral.
Interns, Interns, Interns!
Our Google Summer of Code and Outreachy interns have been active with their projects, making things and making things happen! We'd like to shine a spotlight on the work of Ravgeet Dhillon, who has been working on the GTK web site.
You can read more about our GSoC interns and their projects on the GSoC web site; Outreachy interns are highlighted on the Outreachy web site, where you can also find links to their project blogs.
Technical developments
With thanks to Matthias Classen for his help, a new constraint layout manager is ready for launch.
We've improved several pieces of GNOME project infrastructure, including GitLab runners, Pastebin spam removal, migrating mailing lists, and building up the GUADEC web site.
We have also updated Flathub infrastructure, namely the x86_64 builders. We have also made it so application and freedesktop.org maintainers can better test runtimes.
Working together for the community
The Inclusion & Diversity team officially launched! Initial efforts include events at GUADEC, including coordination around the Women's Dinner, the Newcomer's Lunch, an I&D BoF, and workshops on impostor syndrome and unconscious bias.
In preparation for GUADEC, community members, volunteers, and GNOME Foundation staff took an incident response training facilitated by Sage Sharp of Otter Tech.
LAS
Along with our friends at KDE, we're organizing the Linux App Summit (LAS). LAS is taking place this year in Barcelona, Spain, November 12 – 15th.
The LAS CfP is open! You can (and should) submit a talk! It can relate directly to the conference tracks (listed on the CfP page), but tracks are designed to inspire ideas. Feel free to think outside of them and come up with a different topic.
GUADEC Update
GUADEC is happening as we speak (so to speak)! We want to extend an extra welcome to the event for those of you who are here! Please feel free to take this opportunity to meet the Foundation staff and talk with us about the work we're doing, that you're helping to support.
Thank you!
Are you a Friend of GNOME? If so, thank you! If not, become one today! Every month we deliver this newsletter to the inboxes of Friends of GNOME with a healthy dose of that warm, fuzzy feeling that comes with knowing you're supporting software freedom for people all over the world.