At the end of August we wrapped up GUADEC and in September we shifted our focus to the GNOME 3.34 release.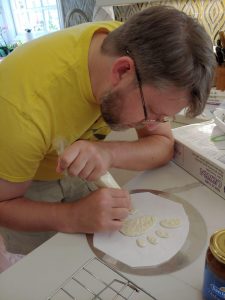 GNOME 3.34 released
On September 12, GNOME 3.34 released! Named after the location of the most recent GUADEC, Thessaloniki includes refreshed visuals, custom folders in the application overview, increased data sources in Sysprof, and multiple improvements to Builder.
We had a GUADEC!
GUADEC 2019 took place in beautiful Thessaloniki, Greece. We learned a lot in the conference sessions on the core days (videos available online); we had great strategic planning sessions and workshops during the BoF days; and had two fun day trips, with one group going to a beach and the other exploring museums in Thessaloniki. A full trip report is online. We'd like to give a thank you to the organizing team and the GUADEC sponsors.
GNOME on the Road
Federico Mena was recently at CCOSS, where he gave a keynote and ran a workshop. Molly de Blancwent to GitLab Commit and spoke about GNOME's migration to GitLab.
Carlos Soriano, from the GNOME Board of Directors, will be at GitLab commit in London, on October 9th, discussing GNOME's implementation of GitLab.
GNOME.Asia: Gresik, Indonesia
GNOME.Asia will be held in Gresik, Indonesia on October 11-13th. We hope you'll make it to GNOME.Asia. There is a stellar list of speakers, including the Foundation's own Neil McGovern and Rosanna Yuen delivering keynotes, along with Stephanus Koeswandi and Andika Triwidada. Registration is now open, so register today!
Linux Application Summit
LAS is coming up! If you're going to be in Barcelona November 12-15th (or want to be!) please join us in growing the Linux application system. A schedule is online and registration is now open.
Endless & GNOME <3 Education
At GUADEC, we announced a collaboration with Endless: the Coding Education Challenge. We're looking for innovative ideas to teach coding with free and open source software, with prizes up to $100,000 for winning proof of concept. More details to come!
Bylaw Updates Update
Last month we wrote about proposed changes to the bylaws. These changes 1) increase the length of terms of members of the Board of Directors and 2) change the language in the bylaws to be gender neutral. There was a vote at the Annual General Meeting, where both proposals passed.
Thank you!
Thank you for your interest in GNOME! Whether you're using it, contributing code, writing, design, or anything else, if you're attending events, or if you're just enthusiastic about what we do, you're part of the community! If you're not already a Friend of GNOME, please consider becoming one to support the awesome work we do.
Photo courtesy of Rosanna Yuen, licensed CC-BY-SA.