Welcome to the Friends of GNOME Update, March 2020 edition! We have some exciting things in the works and a shiny new GNOME release.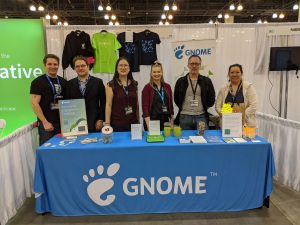 GNOME on the Road
We went to SCaLE! We had a booth, including Foundation staff Caroline Henriksen, Melissa Wu, Neil McGovern, and Rosanna Yuen. We got to talk with great, excited people out there in the free and open source community about GNOME and all the other things we're working on. We also had a GNOME Beers event and headed out for an evening with some of our GNOMEies and their friends.
Pan African GNOME Summit
The Pan African GNOME Summit is on for March 27 in Port Harcourt, Nigeria! From 09:00 until 14:00, you can learn about and celebrate GNOME with contributors, enthusiasts, and some remotely participating Foundation staff.
GUADEC
GUADEC 2020 is moving forward! We are still planning on meeting in Zacatecas, Mexico July 22 – 28. However, we are paying attention to the development of COVID-19, and will be making contingency plans for a remote conference.
The call for abstracts is open. We'll be holding CFP office hours on March 20 at 15:00 UTC! You can join us on Rocketchat to talk about your proposals – whether you just have an idea you're uncertain about or have a proposal ready that you want an extra set of eyes to review, we're here for you.
Community Engagement Challenge
Our team is working hard on the Community Education Challenge – formerly known as the Coding Education Challenge. You can sign up for updates, or just continue watching the web page.
Want to help spread the word? Here are flyers you can share!
GTK
The new GTK web site is live! Thank you so much to everyone who worked on it!
A lot has been going on with GTK, including a hackfest that was focused on, among other things, accessibility.
GNOME 3.36 Released
We are excited to share that GNOME 3.36 (Gresik) was released on March 11! A huge thank you to everyone who worked on it and made this happen.
Thank you!
As always, thank you for supporting GNOME, in whatever ways you do! If you aren't already a Friend of GNOME, please consider becoming one t help further our work.