In addition to recently repping the GNOME project at Open Source Festival Africa, Regina Nkemchor Adejo is organizing the Pan African GNOME Summit in Port Harcourt, Nigeria.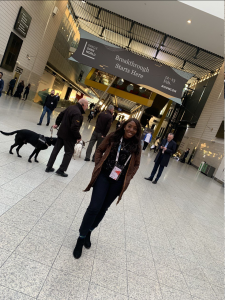 Tell us a little bit more about yourself.
Well, My full name is Regina Nkemchor Adejo, I am a Nigerian. I am a technology enthusiast who transitioned into sciences from an arts background. I currently work as a database and application specialist in a tax organization. I am a YouTube content creator, I create technical videos related to database and Linux administration.
Most importantly, I love computers! I spend most of my time on them.
What is your role within the GNOME community?
I am member, currently working as an engagement team volunteer
Why did you get involved in GNOME?
I am a GNOME user, GNOME consistently shines for its open source contribution and friendly members and volunteers.
Why are you still involved with GNOME?
It's an interesting community so many skills to learn around building strong communities and managing projects.
What are you working on right now?
Pan African GNOME Summit (PAGS)! It is a project I am passionate about, to drive GNOME into the African tech space and ntroduce people on how they can make open source contributions in GNOME. Although the first event is happening in Nigeria I hope to expand this into other African countries as well and hopefully one day we have GUADEC in Africa!
What are you excited about right now – either in GNOME or free and open source software in general?
PAGS, GUADEC, and the Linux App Summit (LAS)!
What is a major challenge you see for the future of GNOME?
I won't call it a challenge, I will say it is more like a concern about managing more volunteers as GNOME pushes for greater numbers of contributors. There may be a need to have more mentors in the foundation to help guide newcomers.
What do you think GNOME should focus on next?
Africa!