We're asking you to help us set our priorities when you donate to the GNOME Foundation this spring. You have the option of asking us to focus on building GNOME in Africa or WebKitGTK development.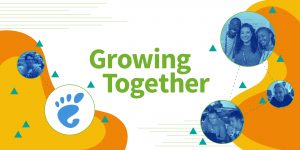 WebKitGTK is not only an exciting project for GNOME, but a necessary step in preparing for our GTK4 release. We've been growing the project, with a new release just the other day! We have a lot more development to do, and it's something we are hoping to prioritize. You can let us know if you think WebKitGTK should be a priority by donating today and marking your donation in support of WebKitGTK development.
WebKitGTK is a rendering engine for projects that need any kind of web integration. It can handle HTML/CSS applications and web browsers, and is useful for everything from desktop computers to mobile devices like phones and tablets. We believe the web is for everyone, and we support this belief by making accessibility one of the project's core principles.
Right now, the main focus is cleaning up the project to make the port to GTK4 smoother. In addition to ensuring there are fast paths for efficient rendering, moving existing users, and incorporating user requirements, this will make it easier for future contributors to find new pathways to get involved.
In order to accomplish this, we could use funds in a number of ways:
paying for developer time;
hiring an intern to work on WebKitGTK;
supporting hackfests; or
purchasing equipment necessary for development.
We're asking you to help us grow the WebKitGTK project. It's a necessary step in the development of GTK4. WebKitGTK will help build a free web by helping more people create the tools they and others need. So please, donate today and vote for WebKitGTK.