Welcome to the April 2020 Friends of GNOME Update!
As spring hits the Northern Hemisphere, the GNOME Foundation staff is busy indoors working on our laptop screen tans hacking, logisticating, organizing, writing, and trading recipes for baked goods.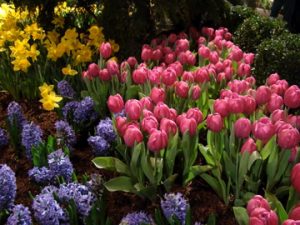 GNOME at Home
We might not be on the road, but Melissa Wu, organizer of the Community Engagement Challenge, wrote up a trip report from SCaLE 18x, which has been posted online for your reading pleasure.
Every month there is a Social Hour Event organized by Kristi Progri, Programs Coordinator. This month we had Marie Nordin, Fedora's new Community and Impact Coordinator.
If you've missed seeing us in-person, Executive Director Neil McGovern recently did an interview on the Mike Dominick Show.
If you would like to have Neil, or anyone else on our staff, on your podcast, please drop us a line at info@gnome.org.
GUADEC Updates
After a lot of discussion, GUADEC has moved to be an entirely online event for 2020. While we are disappointed to reschedule our trips to Zacatecas, Mexico to the summer of 2021, we are very excited to meet and learn from GNOME contributors and free software community members who would otherwise be unable to make it.
As GUADEC 2020 will be online, we have extended the call for abstracts, and the deadline is now May 1. If you have an idea for a talk, please share it with us! If you have questions or want someone else to read over your proposal, drop by the #GUADEC channel on the GNOME Rocketchat.
Community Engagement Challenge Launched!
The Community Engagement Challenge is open for Phase One! During Phase One, you are invited to submit proposals for projects that will help get coders involved in free and open source software communities.
If you have any questions about the Challenge or are interested in helping to promote it, please email cechallenge@gnome.org directly.
Outreach Updates
The GNOME Engagement Team launched a University Outreach Initiative! Their purpose is two-fold: to increase awareness of GNOME technologies in universities and education institutions; and increase awareness of opportunities within the GNOME community. You can get involved by visiting the channel on Rocketchat or Discourse.
Technical Updates
Accessibility in GTK4
Emmanuele Bassi, core GTK developer, has been working on unraveling the construction of the accessibility stack. He fixed several issues, and has clear next step plans.
Data Centers and Services
We're moving data centers! Andrea Veri and Bartłomiej Piotrowsk have been taking us across the United States as we transfer data centers. They have setup three new servers and upgraded 15 virtual machines.
News From the Community
Thank you!
Thank you for reading! If you're not already a Friend of GNOME, please consider becoming one and helping to support the Foundation and work we do for the community.