In the month of April we raised $3,316, for a total of $10,027.13 since January 1, 2009. (We had a big day on April 30th when John Palmieri posted The GNOME Foundation Needs Your Help.)
Here are some graphs that show recent trends.
Comparing donations by years: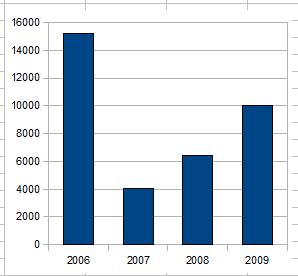 Comparing donations by month across years: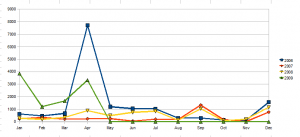 Showing what percentage of our Friends of GNOME income comes from subscription payments: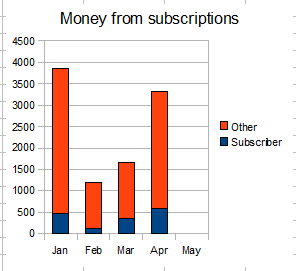 In 2009, we were planning on raising $20,000 from Friends of GNOME for general Foundation funds. With the launch of the sys admin team, the Foundation said it would like to be able to hire a part time system administrator to coordinate efforts and in order to do so, we are looking to raise $50,000 from Friends of GNOME. Canonical has agreed to match $10,000 of contributions with the goal being to hire a system administrator for GNOME.