Good news:
From last year: 2009 was an awesome year thanks to our Friends of GNOME. We brought in $29,578!!!
February 2010 was an outstanding month. We brought in $2,826. (Compare to $1,587 in January and $2,663 in December.)
Challenge:
A large part of February's donation was do to one, one time $1500 donation from an individual. (Thank you!)
We lost 12 subscribers. I asked them all why they cancelled. Few have responded but I imagine that it's because they finished their year and they are getting a tshirt.
Corrections:
These reports currently don't include $100 a month that we receive in donations via checks.
And some graphs so you can see what is going on …
Percentage from subscriptions: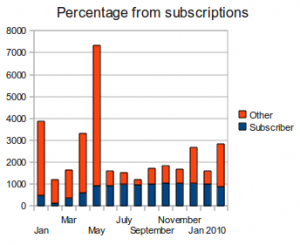 We did really well year over year in February. (Not so much in January – but last year we launched the Friends of GNOME subscriptions in January, so that was an unusual month.)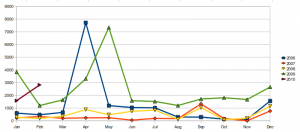 And as you can see, 2009 was a stellar year. We have a lot to live up to!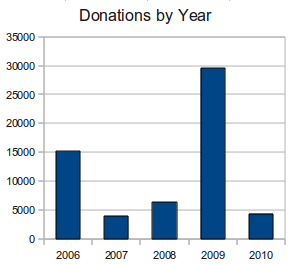 Promote Friends of GNOME with a badge like this: