For the last couple of days I've been working with a large vendor adding new functionality to the LVFS to support their specific workflow.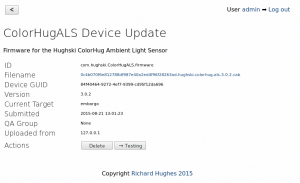 The new embargo target allows vendors to test the automatic update functionality using a secret vendor-specific URL set in /etc/fwupd.conf without releasing it to the general public until the hardware has been announced.
Updates normally go through these stages: Private → Embargoed → Testing → Stable although LVFS users with the QA capability can skip these as required. The screenshot also shows that we're unpacking the .cab file and parsing the metainfo file server side (in python), which gives us so much more rich detail about the firmware.