The Open Desktop Ratings service is a simple Flask web service that various software centers use to retrieve and submit application reviews. Today it processed the 3000th review, and I thought I should mark this occasion here. I wanted to give a huge thanks to all the people who have submitted reviews; you have made life easier for people unfamiliar with installing software. There are reviews in over a hundred different languages and over 600 different applications have been reviewed.
Over 4000 people have clicked the "was this useful to you" buttons in the reviews, which affect how the reviews are ordered for a particular system. Without people clicking those buttons we don't really know how useful a review is. Since we started this project, 37 reviews have been reported for abuse, of which 15 have been deleted for things like swearing and racism.
Here are some interesting graphs, first, showing the number of requests we're handling per month. As you can see we're handling nearly a million requests a month.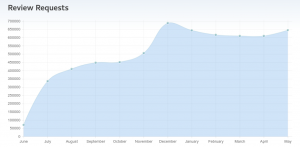 The second show the number of people contributing reviews. At about 350 per month this is a tiny fraction compared to the people requesting reviews, but this is to be expected.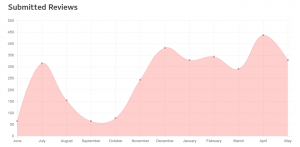 The third shows where reviews come from; the notable absence is Ubuntu, but they use their own review system rather than the ODRS. Recently Debian has been increasing the fastest, I assume because at last they ship a gnome-software package new enough to support user reviews, but the reviews are still coming in fastest from Fedora users. Maybe Fedora users are the kindest in the open source community? Maybe we just shipped the gnome-software package first? :)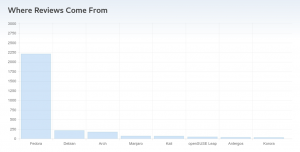 One notable thing missing from the ODRS is a community of people moderating reviews; at the moment it's just me deciding which reviews are indeed abuse, and also fixing up common spelling errors in the submitted text. If this is something you would like to help with, please let me know and I can spend a bit of time adding a user type somewhere in-between benevolent dictator (me) and unauthenticated. Ideas welcome.