I've just released the latest version of fwupd from the development branch. 0.9.5 has the usual bug fixes, translation updates and polish, but also provides two new goodies: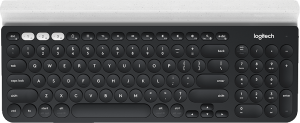 We now support for updating Logitech peripherals over a protocol helpfully called DFU, which is not to be confused with the standard USB DFU protocol. This allows us to update devices such as the K780 keyboard over the Unifying layer. Although it takes a few minutes to complete, it works reliably and allows us to finally fix the receiver end of the MouseJack vulnerability. Once the user has installed the Unifying dongle update and in some cases a peripheral update they are secure again. The K780 update is in "testing" on the LVFS if anyone wants to try this straight away. You should send huge thanks to Logitech as they have provided me access to the documentation, hardware and firmware engineers required to make this possible. All the released Logitech firmwares will move to the "stable" state once this new fwupd release has hit Fedora updates-testing.

The other main feature in this release is the Intel Management Engine plugin. The IME is the source of the recent AMT vulnerability that affects the "ME blob" that is included in basically every consumer PC sold in the last decade. Although we can't flash the ME blob using this plugin, it certainly makes it easy to query the hardware and find out if you are running a very insecure system. This plugin is more that inspired by the AMT status checker for Linux by Matthew Garrett, so you should send him cookies, not me. Actually updating the ME blob would be achieved using the standard UEFI UpdateCapsule, but it would mean your vendor does have to upload a new system firmware to the LVFS. If you've got a Dell you are loved, other vendors are either still testing this and don't want to go public yet (you know who you are) or don't care about their users. If you still don't know what the LVFS is about, see the whitepaper and then send me an email. Anyway, obligatory technical-looking output:

$ fwupdmgr get-devices
  Guid:                 2800f812-b7b4-2d4b-aca8-46e0ff65814c
  DeviceID:             /dev/mei
  DisplayName:          Intel AMT (unprovisioned)
  Plugin:               amt
  Flags:                internal
  Version:              9.5.30
  VersionBootloader:    9.5.30

If the AMT device is present, and the display name has provisioned and the AMT version is between 6.0.x and 11.2.x, and you have not upgraded your firmware, you are vulnerable to CVE-2017-5689 and you should disable AMT in your system firmware. I've not yet decided if this should bubble up to the session in the form of a notification bubble, ideas welcome.
The new release is currently building for Fedora, and might be available in other distributions at some point.